CLICK IMAGE
TO LOOK
INSIDE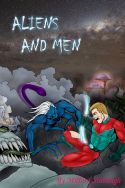 ALIENS AND MEN
PRICE: $4.00
This book contains 30 of my stories about men, either present-day or future, dealing with aliens who are after their bodies...and not to eat them! Sometimes the alien is civilized and gentle, sometimes it's a case of a tentacled horny being taking what it wants from our hapless (but ultimately willing) heroes. What can you do when you're dealing with an alien who just won't take "no" for an answer? Get ready for the ramming of your life, is what! Included among these 30 stories are all nine of the "Dash Hogan" adventures, covering all three of his horny expeditions. This eBook contains the following 30 stories with 20 of them also carrying an illustration:


My Pet Human
Easter on Inselah
First Contact
Dash Hogan and the Moon Men
The Discovery of Flesh
Souvenir From a Small Planet
Dash Hogan and the Pixies of Phobos
Aliens on Board
Space Lottery
Dash Hogan and the Martian Menace
The Serendipity Factor
You Call This an Abduction?
Dash Hogan and the Jungles of Venus
A Trade Deal
When the Gremlins Came
Dash Hogan and the Comet Culture
The Fukin Swarm
The Report on Earth
Dash Hogan and the Wall of Mercury
My Roommate is an Alien
How to Survive on Eumica-5
Dash Hogan and the Arena of Vesta
The Paradise Parasites
The Last Line of Defense
Dash Hogan and the Aborigines of Ganymede
Should I Go Home for Christmas?
The Power of Love
Dash Hogan and the Lotus-Eaters of Callisto
Feeding the Naveban
The Royal Consort



This eBook is in PDF format. Delivery of the eBook is by e-mail upon receipt of confirmation of payment from Paypal. Please allow up to 24 hours for delivery; I'll send the eBook as soon as I can, but I'm a single person doing this, and I also work a full-time job.