CLICK IMAGE
FOR A FREE
STORY FROM
THIS BOOK!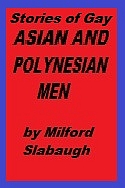 ASIAN AND POLYNESIAN MEN
PRICE: $2.00
Eight stories of gay men from eastern Asia (China, Japan, Vietnam) and Polynesian islands, this book was created as a favor of sorts to a fan who has a special interest in this particular branch of Mankind. As a Caucasian gay man, I have tried to be authentic and avoid any stereotypes in all of these stories, and did research beforehand in every case to make the characters both believable and sexy (of course), these men are horny and ready to plow their partners with all their vigor and enthusiasm. This eBook contains the following eight short stories, each with an illustration:

Saved from the Abyss--Our hero is a young American soldier fighting in Vietnam and his squad has been decimated by the Viet Cong during a major push. It is now only himself and his young South Vietnamese guide when they find our hero's best friend dead, and our hero is teetering on the edge of madness driven by horror and fear and death...until the guide shows him that there is humanity even in the midst of war's destruction.

Gung Hay Fat Choy!--Jimmy is a second-generation Chinese-American boy who's just become adult and finds life opening up. He craves something (he knows not what) on the final day of the New Year's festival and goes out to enjoy the celebration, where he meets another young Chinese boy, Bobby, who shares his fun and helps quench the fire in Jimmy's vitals.

Fanuatapu Honeymoon--Trapped in a loveless marriage, our hero remembers his honeymoon on a small tropical island where his wife first showed her disdain for her new husband, but he found a sort of honeymoon after all in the form of three Polynesian studs on a warm beach.

Sweet and Sour--Living above a Chinese restaurant, our hero asks for his meal to be delivered in hopes their young son will be the delivery boy. He is and things get sexy, but the son seems to be sweet and tender one time, rough and rowdy the next. What is going on?

The Volcano Speaks with Smoke--Our sailor hero scoffs at his mate who is panicked by the native drums that beat because the island's volcano is becoming active. He is warned that the natives have a propiatory ceremony to soothe their volcano, but doesn't know that he is about to play a pivotal role in their ceremony!

Persuading Weng Chow--The Chinese gangsters are out to shake down the village merchants, but the greengrocer Weng Chow may be a problem as he has nothing they can damage if he doesn't pay up...or does he?

Market Penetration--A Japanese executive meets with a fellow businessman to discuss market penetration of their mutual product, and in the process do some penetration of their own.

The Gifts of Paradise--In the days when white men were only occasional visitors to a remote tropical island, two friends enjoy a day in their lives, where they share their fortunes and love, and the days living in paradise with the gifts that their god gave them promise to go on forever.

This eBook is in PDF format. Delivery of the eBook will be by e-mail upon receipt of confirmation of payment from Paypal. Please allow up to 24 hours for delivery; I send the eBook as soon as I can, but I'm a single person doing this, and I also work a full-time job.