CLICK IMAGE
TO LOOK
INSIDE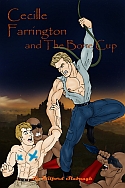 CECILLE FARRINGTON AND THE BONE CUP
PRICE: $4.00
Whether wrestling alligators or exploring the jungles of the world for hidden treasure, Cecille Farrington is NOT your typical British aristocrat! Wherever he goes, action and adventure follows. And when Gordon, a handsome but rather nervous young American brings over an unusual cup which some dangerous characters are trying to steal from him, it's just the beginning of fast-paced, hair-raising and humorous exploits in the wilds of Central America...along with some heavy man-to-man action, naturally. This 25-chapter book is fully illustrated and will have you eagerly following the storyline, laughing frequently and panting along with the sex scenes, with its three-dimensional and interesting characters, exotic scenes and hair-raising action sequences. You'll find car chases, train-jumping, poison traps, hostile natives and machine-gun-toting villains, but Cecille Farrington takes them all on and wins every time, and is ready after that to enjoy some hot man-to-man fun with Gordon and their friends.

This eBook is in PDF format. Delivery of the eBook is by e-mail upon receipt of confirmation of payment from Paypal. Please allow up to 24 hours for delivery; I'll send the eBook as soon as I can, but I'm a single person doing this, and I also work a full-time job.