CLICK IMAGE
TO LOOK
INSIDE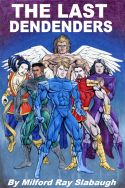 THE LAST DEFENDERS
PRICE: $5.00
This book contains BOTH series and all five short stories, for a total of 38 chapters/stories (with 36 illustrations!). In the first 27-chapter series, Mankind in the near future is in dire straits, for machines from outer space have come down and destroyed most of civilization, capturing all women and taking them away...somewhere. Men fare no better, for the machines don't hesitate to use living human parts to work and power their machines, using the strongest source of power in the universe...mana, which is found in human sperm! The United States has been reduced to a single, small, isolated valley held safe only by the powers of a mysterious figure known as Morven.

Using the magic-like power of mana, Morven has summoned six men from across time to save the human race, and endowed them with superhuman powers. But when all power derives from gay sex, and our six heroes must battle with men/machine hybrids that now control the world and with Wikkar, a man who has allied himself with the machines, the battles take on an orgiastic element that has the come flying wild and everyone having multiple orgasms.

Following this first series are five short stories, one set in the same universe, and the other four being individual adventures our heroes have after the events of the first series.

In the second, six-chapter series, "Doorways of the World," we follow the hero Steve Warren ("Starwalker") as Mankind faces another danger...Wikkar is building a machine to teleport his minions into the valley of the humans...but the technology is so dangerous, the machines independent of Wikkar ally themselves with our heroes to defeat him, that culminates in an orgy to save the world!

This eBook is in PDF format. Delivery of the eBook is by e-mail upon receipt of confirmation of payment from Paypal. Please allow up to 24 hours for delivery; I'll send the eBook as soon as I can, but I'm a single person doing this, and I also work a full-time job.