CLICK IMAGE
TO LOOK
INSIDE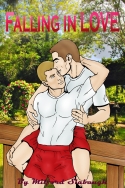 FALLING IN LOVE
PRICE: $4.00
When you find the right man, all the problems in your life suddenly don't seem so important any more! These are tales of young gay men who find their one true love, sometimes in the most unlikely of ways and places. This book contains 30 stories (26 with illustrations, though many of them are older/smaller images bought in my earliest days of stocking my website with imagery). I confess that this book contains a disproportionate amount of my older stories while I was still learning my craft; but that's just because I wrote so many stories on this theme back then; you'll also find newer and more seasoned tales here as well.


This eBook contains the following stories:

The Heart of a Dragon-Racer--He races a fellow dragon-racer, and wins more than the race.
Doodling--Hired to captured the image of a man, he ends up with the entire man!
How to Make Love (To a Woman)--Coached in the way to seduce a woman ends up working too well!
Finding the Voice--A stage singer just needs the right inspiration for his music.
Above Oneís Station--A casual lie while on vacation causes a lot of trouble later.
Move Out, Move In, Move on--He's lost his lover, but the next one is closer than he thinks!
The Heart of a Gigolo--Why is the handsome stud-for-hire chasing him?
Insomnia--He's having trouble sleeping at night, and so is his roommate, for the same reason.
No Good Reason Why Not--A young man has problems explaining why he can't suck a hot stud's cock.
Sound Effects--Two young men are in bed listening to some loud lovemaking.
The Orange Seller--The handsome orange-seller always gave good value for the money.
Sound Asleep--His roommate is a very sound sleeper. Very sound!
Donkey--He didn't realize why the guy had the nickname of Donkey until it was too late.
Thirty-Love--The hot tennis pro has to pick a sexual partner...and chooses our hero.
Blind Manís Bluff--He takes a job working for a blind man who sees better than he does.
Spring Cleaning--He's been drafted to help clean a basement, but there are perks, too.
Helping Hand--The guy has both arms broken and need help with absolutely everything.
Trade Ya!--They've traded things since childhood, but now it's time for the ultimate trade.
The Wrestlers--Two young men share a room before a wrestling meet and practice their holds.
Brian--His older brother's stepson turns out to have a lot of common sense.
Angel in Flight--Angel is a man worthy of his name and our hero will do anything to get him.
The Dumb Lug--He helps out a simple-minded man with a problem, and ends up with a lover.
The Ice Cream Man--Perhaps my very first porn story, about two ice-cream shoppe employees.
All Body and No Brains--The actor is gorgeous but stupid, and it's up to our hero to coach him.
Cultural Exchange--The snooty prep school's rough-edged newest student has to be dealt with!
Birthday with the Surf God--He's offered a birthday present of the hunky stud he's been hankering for.
The Secret Dance--Working late at night, he finds the janitor has a nighttime ritual dance.
Oh, Momma!--He's found the right guy...now if Momma will only leave them alone a little while!
Encounter in the Rain--A heart-broken young man in the rain is rescued and redeemed.
Behrang and Jacob--Two young stockbrokers, one Jewish, one Muslim, find common ground.


This eBook is in PDF format. Delivery of the eBook is by e-mail upon receipt of confirmation of payment from Paypal. Please allow up to 24 hours for delivery; I'll send the eBook as soon as I can, but I'm a single person doing this, and I also work a full-time job.