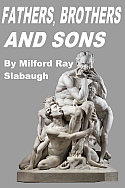 FATHERS, BROTHERS AND SONS
PRICE: $4.00
Twenty stories of men, family and relationships. Love for family and love for your sexual partners is complicated enough, but when you get down to it, the ties that bind are the ties that last.

This book is part of my "Private Collection" and if you aren't aware of the book beyond this page, please write me for more information at tommyhawk1@aol.com before ordering.