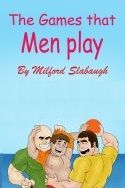 THE GAMES THAT MEN PLAY
PRICE: $5.00
Thirty short stories (with illustrations on more than half of them) about young men who discover that playing with their friends can be even more fun than they ever imagined when they start handling the love-muscle between their legs. And our heroes just love the creamy juice that their buddies provide so much of! Sometimes, more than one friend get into the fun as our hero grabs hold of all those happy fun-tools and really goes to town!

This book is part of my "Private Collection" and if you aren't aware of the book beyond this page, please write me for more information at tommyhawk1@aol.com before ordering.