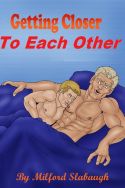 GETTING CLOSER TO EACH OTHER
PRICE: $5.00
Thirty short stories (with illustrations on more than half of them) about young men who crave getting closer to their buddies. And when their buddy finds out, he's only too happy to let our heroes chow down on their long, hard, love-tools. These men really cuddle up and when their buddy shoves his hot long dong into their tender backsides, our heroes just howl and beg for more, more, more!

This book is part of my "Private Collection" and if you aren't aware of the book beyond this page, please write me for more information at tommyhawk1@aol.com before ordering.