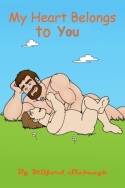 MY HEART BELONGS TO YOU
PRICE: $5.00
Twenty BRAND NEW, never before published short stories, fully illustrated with twenty illustrations (8 of which are brand new, as well, the others are now-unused images from my former site), these are stories about men finding their one true love has been right there all along! A mixture of tales about men loving men, in all sorts of situations and relationships.

This book is part of my "Private Collection" and if you aren't aware of the book beyond this page, please write me for more information at tommyhawk1@aol.com before ordering.