CLICK IMAGE
TO LOOK
INSIDE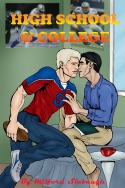 HIGH SCHOOL AND COLLEGE
PRICE: $4.00
Return to school where the classes are hard and the students are harder! This book contains 31 stories (24 with illustrations) of young men either in their last year of high school or in college, and the sexual adventures they have there. These young men are ready for their new life and there's plenty of horny men waiting to make that new life a hell of a lot of fun!


This eBook contains the following stories:

HIGH SCHOOL
Gotta Put Out--His buddy always scores on a date...always!
A Dying Request--He has to grant a man in the hospital his last request.
A Reason to Exercise--A nerd is trained by a jock in all things physical.
Give Henry a Kiss--Henry is the name of the jock's penis, and it's time to make it feel better!
Too Early for Apples--Two young men about to graduate go picking apples way too early.
Hosting the Orgy--He's ready to host an orgy, but the girls don't show up.
Franklin's General Store--His buddy is choosing to run a store for the summer, with him!
Spring Break--He's stuck on a job on spring break, but the boss shows him a good time.
Final Problems--Two jocks are caught breaking into a teacher's house, and have to pay!
Waiting after School--He has to wait around school for his mother, with a friend.
The Heart Has Its Reasons...--Helping out a fellow student with his studies of the heart.
Almost Caught--The jock dating his sister slips into his room buck naked, to hide.
The In-between Time--He's about to graduate high school, but what is his future?
For a Starry Night--Two students spend a memorable night watching the stars.

COLLEGE
College Is a Whole New World--Arriving at college, he meets his new roommate...and how!
Doofus--His new dorm roommate is a total doofus...but he's hung like a horse!
It's Too Bad--Two guys' girls stand them up at a party and they get wasted and more.
All You Need to Know--A man is taught the art of love by a very knowledgeable buddy!
Dave and the Date Rape Drugs--When the date rape drugs end up in the wrong glass, the fun begins.
Right and Wrong--Like the song says, one kiss doesn't mean anything...or does it?
Brains and Brawn--A nerd and jock share a room, and find their talents very complementary.
The Closet Case--The jock is seeking advice about a friend...but who's in the closet here?
Finding Out--His roommate helps him find out if gay sex is right for him.
Waiting for the Date--When his sister works late, our hero knows just how to entertain him.
A Cat Always Knows--He brings his lover home, but the cat won't let them keep their secret.
Masquerade--He's after the college stud and the Halloween party is the perfect opportunity.
Crazed Monkeys--He wins a fellow student at a stud auction, and it's time to pay up!
One of Each--His friend has dated every kind of girl there is...time to try a guy instead.
Just One Student--The young professor discouraged with his students finds one terrific exception.
Bed Games--Two very drunk students make it to bed, and find the party's only getting started.
Mother in the Rain--His mother drove him back to school in the rain...but you can't fool Momma!


This eBook is in PDF format. Delivery of the eBook is by e-mail upon receipt of confirmation of payment from Paypal. Please allow up to 24 hours for delivery; I'll send the eBook as soon as I can, but I'm a single person doing this, and I also work a full-time job.