CLICK IMAGE
TO LOOK
INSIDE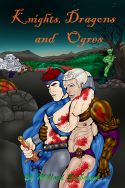 KNIGHTS, DRAGONS AND OGRES
PRICE: $4.00
This book contains 25 short stories with 17 illustrations, all stories set in a realm of fantasy, ranging from warriors fighting mythical beasts to dealing with an evil Queen/stepmother to surviving among horny monsters to sex with other fighters, and always they enjoy hot gay sex. All the men are muscled and handsome, the monsters they get involved with are well-endowed and enjoy ravishing hot young studs, and even magic comes into play in a way to make men get horny and plunge it into the tender butts of other men who love it when they get plowed long and hard.

This eBook contains the following stories:


While Dragons Sleep–While the dragons are away, the knights will play!

Expedition to Simismire–A little magic can work wonders!

Pan and the Woodcutters–The evil Queen wants to kill him, but his real challenge lies in the woods.

An Alliance by Marriage--The alliance of kingdoms requires a marriage, but it doesn't say to who!

Suffish and the Giant–A big, big man can handle some big, big lovemaking!

The Invisible Prince Titan–When you can't be seen, you can do what you like!

The Gelroc Warrior–A man has to keep his men happy, even when it isn't a man!

The Island of the Siren--A young Greek man discovers the siren's lair of captured men.

A Mercenary's Life--Why does a man become a mercenary? Our hero gets to find out!

Knight-Errant–He has killed the dragon, but the captive he's rescued is more than he can handle!

Chopwith and the Ogre–He can fight the ogre or answer its riddle, either way, he's screwed!

The Grancel Hunter–He owes the grancel hunter a big debt and is out to pay him in full.

Night of the Lizardmen--Run out of his tribe, he has to live among the Lizardmen as their plaything.

The Curse of Thirst–When a man needs to drink, water or ale may not be enough!

Prince Adran and the Fairies--Two young men find the fairies lingering about...for a reason.

An Immunity to Pain–When someone else feels the pain, you can handle a lot of men!

Prince Yild's Quest–He's out to rescue the maiden from the trolls, but who will rescue him?

The Sacrifice--Once a year, the god chooses a warrior to join him...and this year, it chose Acerin!

The Chosen One of Langolen--He has sucked into a magical realm to battle magical creatures with magic of his own!

An Encounter by the Road–Never trust a man riding a big lizard!

In the Great Hall–As warriors wait for battle, there's still plenty of excitement to be had!

The Last Warrior of Oparia--A lone surviving warrior has to make a new life for himself.

The Trading of Sons--Two tribal chiefs keep the peace by exchanging their sons and making their new son their heir.

The Aftermath--After a brutal battle, a young peasant and a mercenary form a bond.

Why the Adventurer--He wonders why the adventurer picked his career, and is shown why.


This eBook is in PDF format. Delivery of the eBook is by e-mail upon receipt of confirmation of payment from Paypal. Please allow up to 24 hours for delivery; I'll send the eBook as soon as I can, but I'm a single person doing this, and I also work a full-time job.