CLICK IMAGE
TO LOOK
INSIDE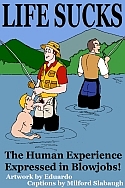 LIFE SUCKS
PRICE: $4.00
You can blow your fortunes or blow your chances, and that is bad, but blowing a buddy is the best thing in a gay man's life! There is never a time in your life when sucking a hard one or having a friend make like a power-vac on your manhood doesn't bring a smile to your lips and a better outlook on the world when it's done. There is no downside to a blowjob, because when you give it your all, you're rewarded with a rich, creamy taste treat that just can't be beat!

This book celebrates blowjobs all around the year, from a New Year's Eve celebration at midnight all the way through coaxing Santa Claus to being generous with the presents at Christmas. This book contains all 52 images that made the circuit for a number of years about the internet, and this book has become what I hope is their perpetual home.

FULL DISCLOSURE: I did experiment on this set of images (which predated a computer crash that wiped out my large-scale originals like so much artwork at my site) by making the pages on which they rest smaller, a computer user should view the images at "full page" scale for optimum viewing. I hope that buyers viewing them on a tablet or mobile phone will find this smaller page more manageable than my usual 8 1/2 X 11 format. I chose this option over squeezing them two to a page, or framing them in a large, otherwise-blank page. Feedback from buyers would be greatly appreciated, and I can reprint this book in a larger size if it turns out to be a bad idea, so write me if you hate it, or like it, and why. Is this a better size-choice for all my books in light of current technology?

This eBook is in PDF format. Delivery of the eBook is by e-mail upon receipt of confirmation of payment from Paypal. Please allow up to 24 hours for delivery; I'll send the eBook as soon as I can, but I'm a single person doing this, and I also work a full-time job.