CLICK IMAGE
FOR A CHAPTER OF THE NEW SERIES!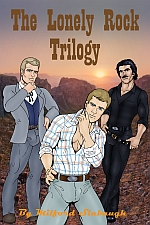 TO BUY THE TRILOGY


TO BUY THE COMPANION
SERIES ONLY
THE LONELY ROCK TRILOGY
PRICE: $5.00
My entire series about the Old West town of Lonely Rock, including a never-before-published third and final segment in this series. This book has 27 chapters in three sections, and is fully illustrated with 27 illustrations.

In "The Outcast of Lonely Rock," it's off to the Wild West for young Benjamin Mott, for he's joining his uncle on his ranch and eager to become a real Old West cowhand. But he arrives (after being handled roughly by a pair of bandits) to find that his uncle's ranch is on the verge of collapse, being assaulted by a greedy land baron, King Carson, who is after the silver ore under the ranch's land. Benjamin finds himself caught up in this struggle, aided by a mysterious man named Hunter and by King Carson himself, who has fallen for young Ben. Before it is done, Benjamin will find himself the hero and savior of this small Western town.

"The Battle for Lonely Rock" finds Benjamin still in Lonely Rock, with the Civil War about to tear this small town and his own world apart. King Carson is a Confederate colonel, Hunter is with the Union Army and Benjamin is caught in the middle of a battle for the silver mines of Lonely Rock which will leave him once again the one who brings peace to this war-torn town.

In "The Victory at Lonely Rock", Lonely Rock has been overrun with bandits, Confederate army deserters who have fortified the town and are terrorizing the inhabitants. Benjamin is rescued by Hunter only to find out that King Carson has been captured in the act of trying to rescue Benjamin himself! Now Benjamin has to rescue his worst enemy in addition to saving the entire town and even Hunter isn't going to help him do this!

People who only want the new third series may buy instead a companion book with just the third series. But I should caution you, unless you've read the first two series beforehand, this third one won't be as enjoyable as it could be.

This eBook is in PDF format. Delivery of the eBook is by e-mail upon receipt of confirmation of payment from Paypal. Please allow up to 24 hours for delivery; I'll send the eBook as soon as I can, but I'm a single person doing this, and I also work a full-time job.


TO BUY THE FULL TRILOGY, CLICK THIS BUTTON

TO BUY THE COMPANION BOOK ONLY, CLICK THIS BUTTON