CLICK IMAGE
TO LOOK
INSIDE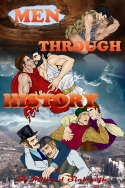 MEN THROUGH HISTORY
PRICE: $4.00
This book contains 30 of my stories (23 with illustrations) of gay men loving other men at various times in history. The backgrounds vary from carefully researched tales with confirmed history (I've done a lot of study of various eras in human history and cultures) to stories with only a tenuous connection to the time period, to a few that have no visible connection to any special place or time, but are tales that are timeless. I also have thrown in a Sherlock Holmes story I'm quite proud of (I feel I captured the characters and story tone of Sir Arthur Conan Doyle) and a tale about the Lone Ranger and Tonto. But while the eras are widely different and their lives are affected and shaped by the world/time they live in, in many ways they are still men who fall in love with other men and express that love the same way as you or I.


This eBook contains the following stories:

At the Dawn of Time--An Australopithecus male finds that his mate is another male.

Good Night, Mr. Forrester--Two young men in 1897 share a room, then share more.

A God in Bed--A Greek's prayers for Apollo to love him is answered in the flesh.

Sherlock Holmes and the Case of the Diabolical Chair--Holmes and Watson solve a murder involving a most unusual chair.

Haderius--A Roman Empire man buys a German man for a slave and lover.

The Battle for Podunkia--A German invasion of a tiny European country in WWII goes awry.

My Leland--A 1920's man is taught about love by the family chauffeur.

A Gift for the Gladiator--A Roman gladiator who rebuffs all women is given a male slave for a present.

A Real Good Time--During Prohibition, two salesmen looking for booze find themselves in an unusual club!

While Emperors Contend at Rome--Away from the tumult of first-century Rome, two men find love.

Hired Gun--A gunslinger is hired to protect a small farm in a range-war over water.

Dr. Mannbender's Sanitarium--Two men in 1870 visit a sanitarium with an odd way of curing ailments.

Mission to Pharsalus--In ancient Greece, a young Athenian seeks aid for a war in Thessaly.

At His Whim--In the WWII POW camp, two Americans must fight to the death--or do they?

Taking Him to His Bride--A 16th Century European prince finds his love on his trip to be married.

A Fellow Roman Soldier--A Roman soldier in Britain meets a fellow centaurian on the road.

A Whorehouse Christmas--A young man in 1892 is taken to a whorehouse for Christmas by his father.

Behind the Bar--Two Wild West cowhands in a saloon are hiding behind the bar during a brawl.

Incognito--Rolf's King insists on tramping about as a commoner, so Rolf sets up a lesson.

Pilgrim's Choice--In 1622 Plymouth, a Pilgrim's survival depends upon pleasing a native man.

Cowboys and Indians--It's a Grade B movie in production, but the action behinds the scenes is hot!

In the Days of Tenochtitlan--An Aztec man is summoned by a priest and old friend for a new way of life.

A Knight's Lodging--A Knight on the tramp sleeps in a crowded inn with an unexpected bed-partner.

King, Queen and Jack--The young noble is recruited by the Queen to sleep with her husband, the King!

Me and the Indian--A Cavalry soldier abandoned by his comrades is rescued by an Indian.

Dreamweaver--An American Indian shaman helps a young warrior battle his night demons.

Cave Paintings--A caveman needs the magical paintings another man can provide.

The Birth of the Lone Ranger--The story behind the famous pairing of heroes.

The Mule Driver--He's being taken by the mule-driver to lose his virginity, but does so on the trail!

An 80-year-old Love Affair--A 100-year-old man tells his story of love eighty years ago.


This eBook is in PDF format. Delivery of the eBook is by e-mail upon receipt of confirmation of payment from Paypal. Please allow up to 24 hours for delivery; I'll send the eBook as soon as I can, but I'm a single person doing this, and I also work a full-time job.