CLICK IMAGE
TO LOOK
INSIDE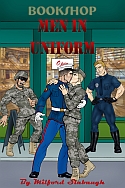 MEN IN UNIFORM
PRICE: $4.00
This book contains 30 of my stories (all 30 with illustrations, though many are older/smaller in size, sorry) of gay men who are wearing some kind of uniform, usually military but also some sports and several police stories as well. These stories deal with the issues and situations a man in uniform can experience while serving his fellow man in a uniform. Whether it's a military man finding love with his buddy in the next bunk, a policeman dishing out some unusual justice or a football jock enjoying some team cameraderie, everything always ends up with that hot, well-trained bod totally drained of his man-juice and coated liberally on top with some appreciative white love-spunk from his buddy. Uniforms bring out the very best in a man and that best always makes the man fun to trip into your bed and give a good working over!


This eBook contains the following stories:

Take Care of My Man for Me--While his sister is away, her drill-sergeant husband needs some loving care!

The Bet--A football rivalry culminates in a challenge, the losing quarterback has to suck the winning one!

No Manís Land--Trapped in WWII disputed territory, an American soldier finds shelter with an Italian farmer.

A Distinct Savings--Two sailors on leave are out to get laid...but at a discount!

The Dear John Letter--When his buddy gets dumped by his girlfriend, he offers solace.

My Last Request--He's facing a firing squad in the morning, but has an odd final request.

Donít Ask, Donít Tell--His sergeant knows he's gay, but isn't talking about it.

Marriage by Proxy--He fills in for the bride at his Army buddy's wedding...and on the wedding night!

Days of Glory--Two German soldiers about to invade Poland in 1939 have a morale-building moment.

Party Hardy, Hoo-Rah!--He's hosting a party for Marines but his bed ends up with a crowded case of confusion.

Good Cop, Bad Cop--Two policemen grilling a suspect have a special way to play the perp.

Your Asses Are Mine!--The drill sergeant takes one two recruits, but ends up in their power.

Night Sticks--Two policemen need to come down after a adrenaline-high bust.

Confined to Quarters--Two cadets suspected of cheating wait for a retest and entertain themselves.

Team Integration--Two soccer teams of a reunited country have to become one team.

The American Pilot--The pilot is hiding in France with a very willing Resistance member.

Teasing the Pussyboys--Two Marines out for a good time find the best time is with each other.

You Have the Right...--Grilling a suspect just got easier for these two cops.

Traffic Violations--Caught speeding, our hero is well chastised by the traffic cops.

My Colonel, My Love--Our hero remembers the days when his Leader was his own special hero.

Weekend with Sarge--Two soldiers find their drunk sergeant needs their help in more ways than one.

Whoops!--A soldier on leave finds himself with a case of mistaken identity.

Ball Players--Two ball players have to resolved their differences.

No Atheists in Foxholes--Shell-shocked soldiers console each other.

Wargames--He keeps getting captured by the same soldier from the other team.

All the Comforts of Home--It's not the best behind-the-lines recreation locale until they spice it up.

Tastes like Team Spirit--A male cheerleader boosts the morale of his team's quarterback.

A Military Christmas--A lone soldier in the barracks until his sergeant shows up and needs help.

Saved from the Abyss--A Vietnam soldier surrounded by horror is helped by a young villager.

Autumn Memories--An old man on a park bench remembers an episode from his days in the Army.


This eBook is in PDF format. Delivery of the eBook is by e-mail upon receipt of confirmation of payment from Paypal. Please allow up to 24 hours for delivery; I'll send the eBook as soon as I can, but I'm a single person doing this, and I also work a full-time job.