CLICK IMAGE
TO LOOK
INSIDE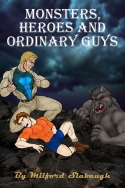 MONSTERS, HEROES AND ORDINARY GUYS
PRICE: $4.00
Gay sex isn't always a case of meeting a man in a bar and picking him up, and these stories are anything but! This book is a mad mix of wild and weird tales of mine, a case of my holding back these stories when doing my earlier books, searching for a niche into which they could fit...and they just don't! So was born this book, a home for the groups that were too small to make their own book and those stories that didn't manage to find a home in my earlier collections. This book contains 33 stories with 26 illustrations, which fall into the following categories:
1. An ordinary man has an extraordinary experience, often into the realm of science-fiction or fantasy;
2. A mixed bag of holiday-themed stories that didn't make it into the other books, St. Patrick's Day, Halloween (a lot of those, the "Monsters" part of the book title) and Christmas.
3. My superhero stories, with tales of what those powers do for the muscle in their Spandex shorts, and
4. My tales of the little fictional country Podunkia, which may be small in size but has a Great Race that any country could envy. One of these stories tell how they fought off the Germans in World War II without firing a shot (with a rifle, that is, lots of shots of another variety!).

This eBook contains the following short stories:


Frat Slave Sale--He picked up a college stud at a slave sale, but the stud takes his role very seriously!
I Wish I Knew--An ordinary day turns more than weird when he keeps getting intercepted by the same man.
To Absent Friends--In a post-apocalyptic world, two former soldiers find each other.
Afternoon of a Faun--Two Greek shepherds meet up with a faun on a warm spring day.
A Bargain in Bread--A thief hiding in his stall makes it hard for this merchant to sell his bread.
Dime Novel Fame--A couple of wild guns seek fame through getting their stories published.
The Gremalkin Harvest--He wants to sell the Earthman his crop, but there's a catch.
Sharing the Load--WWII soldiers in Italy share everything, even when on R&R.
The Leprechaun's Gold--He catches a leprechaun, but ends up getting caught himself.
The Taking of Young Lord Hornsby--A rebellion strike in Ireland doesn't go as planned.
STORIES OF MONSTERS
Tiny Night Demons--He shares an odd aunt's house, but at night, has plenty of company!
The Devil in Me--Two geeks summon up a geekish devil and have to outwit him in a hurry!
The Fetish--The fetish is meant to help him sleep, but has a totally different effect.
Taking Possession--He inherits a house, and with it, the curse of the former owner.
The Three Riders--Three rough men ride into a swamp that turns out to be tougher than them.
People of the Night--A young Victorian man is taken by a vampire in more way than one.
The Frenzy--The small valley's inhabitant must participate in a savage yearly ritual.
Vampire Problems--A young man caught by a vampire has an unexpected surprise of his own.
Among All the Zombies--In a world overwhelmed by zombies, two survivors take the only love they can find.
FOUR "PODUNKIA" STORIES
The Great Race--Why does this very short race take the runners so long to finish?
A Podunkian Bachelor Party--At this party, the guests are vying to change the groom's mind.
My Grand Podunkian Caper--Our hero has to help the winner become another loser.
The Battle for Podunkia--How can a tiny country fight off a German invasion in WWII? With a very unexpected weapon.
MY SUPERHERO STORIES
Peace Lizard and Mighty Man--Two superheroes in training find their power very complementary indeed!
Mothman and Sparrow, Part One--Our crime-fighting duo must overcome a powerful villain's weapon.
Mothman and Sparrow, Part Two--Our heroes have to win the day with the power of love.
Jizzman to the Rescue--His power is unusual but very effective as the League of Heroes learns.
Rescuing a Superhero--When the monster snatches up our hero as well as the superhero, the only way to win free is to play the monster's game.
CHRISTMAS STORIES
A Whorehouse Christmas--Our hero is taken by his father to a whorehouse for Christmas to lose his virginity.
A Tropical Yule--Two shipwrecked sailors celebrate Christmas the best way they can.
Santa's Workshop--The elves at the North Pole keep the best toys for themselves!
Pelesake's Christmas--Pelesake doesn't know a lot about Christmas...or does he?
Santa's Elves--Two guys play elves at the mall, but need to release some frustration.

This eBook is in PDF format. Delivery of the eBook is by e-mail upon receipt of confirmation of payment from Paypal. Please allow up to 24 hours for delivery; I'll send the eBook as soon as I can, but I'm a single person doing this, and I also work a full-time job.