CLICK IMAGE
TO LOOK
INSIDE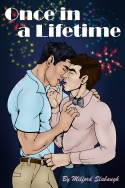 ONCE IN A LIFETIME
PRICE: $4.00
Into every gay man's life, there comes a time when he is not meeting a man in a gay bar or in class, but at a moment when he least expects it. And when it happens, our hero finds he is in for the ride of his life and hot sex he will remember and talk about whenever he and old friends reminisce about the good times they had when they were young and free. This book has 34 stories, 31 with illustrations (full disclosure, several of these aren't of highest quality due to being originally created for monitors with a much-lower resolution), and each story is the tale of a gay sexual experience that only happens to a man once in his lifetime.


This eBook contains the following short stories:

Yard Sale--He's trying to make sales at a yard sale but didn't plan to sell himself!
A Stud, a Shower and a Novel--A writer with writer's block, a cute hunk and a shower.
Little Victories--Two black men at an otherwise all-white prep school must join forces.
The Past Behind--He's about to make a porn movie...with his high-school bully!
The Halfway House--The house next door houses criminals who hav access to his bedroom!
The Two-headed Monster--Two college students attend a science-fiction convention in costume.
Jogging Partners--They are friends who jog together, but today, they'll grow closer.
The Lazy Way to Fish--He and his third cousin are out on a day of fishing--not!
The Painterís Brush--He's hired to model for a painter with an unusual painting technique.
Dogs in Love--When his dog falls in love with the neighbor's dog, the owners get together, too.
Eighty Seconds--Can you make love during a skydive? Our hero gets to find out!
The Hidden Spring--A secret childhood meeting place, ten years later.
A Night at the Opera--Grandma takes him to an opera, but his seatmate is more entertaining!
The After Turkey-day Sale--He's dragged to a department store sale, but picks up a hot stud instead.
If I Were Gay--His friend denies vehemently that he is gay and proves it in bed with our hero!
Gung Hay Fat Choy!--A Chinese man meets a special guy during the New Year's festival.
For Old Timeís Sake--Old friends meet in a new town and revive old memories as adults.
Sex Game Gone Wrong--When he finds his roommate naked and tied to the bed, he can't resist!
Tough Exchange Policy--Taking back an inappropriate Christmas gift turns into more!
The Big Game--The game is on his uncle's big-screen TV, but the action is in the room!
Surveillance--An FBI agent is watching a suspect, who wants more than to be watched.
Shock Jock--A gay football player and a shock-jock radio personality set out to save his career.
Bus Jerk--Riding on a crowded bus is more fun with a helping hand from your seatmate.
No Solicitors!--The salesman ignores the sign and gets what's coming to him.
My Summer of Lotion--Staying with a family friend in Palm Springs requires lots of lotion.
Stroking it with Kevin--He's living with Kevin and has to follow Kevin's rules about bedtime.
Underneath the Dock--On a hot day, a stud under the dock abandoned by his girl needs our hero's help.
Leaving Tompkinville--His childhood friend has grown up and is leaving town forever.
The Cure for Your Ills--The store promises to fix his problems, and does in an unusual way.
The Last Campfire--Old friends on their last camping trip together share a memory.
The End of Summer--At the end of summer, our hero gets a memorable final summer customer.
Fireworks in the Park--When he attends a 4th of July event, the fireworks are not in the sky.

This eBook is in PDF format. Delivery of the eBook is by e-mail upon receipt of confirmation of payment from Paypal. Please allow up to 24 hours for delivery; I'll send the eBook as soon as I can, but I'm a single person doing this, and I also work a full-time job.