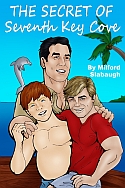 THE SECRET OF SEVENTH KEY COVE
PRICE: $4.00
This group of three friends have an adventure when Buck stumbles upon a nest of smugglers using Seventh Key Cove. Before long, his entire group are captives and their lives depend upon the talented and intelligent family pet dolphin, Chopper. In the process, these three men find a new level of friendship with each other.

This book is part of my "Private Collection" and if you aren't aware of the book beyond this page, please write me for more information at tommyhawk1@aol.com before ordering.