CLICK IMAGE
TO LOOK
INSIDE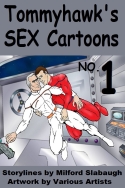 TOMMYHAWK'S SEX CARTOONS #1
PRICE: $4.00
This book is first in a series of 3, which will offer up the 12-panel Sex Cartoon Series I offered up at my paysite back in its heyday when I was making enough money from my site to be able to pay for such things. This book contains four 12-panel series and one 4-panel series, for a total of 52 panels. Bought mostly back in 2001 to 2005 when monitor resolutions were less, and due to a painful computer virus attack that wiped out a lot of my archival material, many of these panels are so small I had to put them two to a page, so this book is only 34 pages long...but there's explicit sex galore just the same! The five series in this book are:


THE MUTINY OF THE ST. MARIE--Barton was the artist on this tale of a sea captain in the 1800's, who so torments his crew that they mutiny and deliver a punishing regimen of sexual excess upon him, but the captain is more than equal to what they can dish out!

THE SORCERER'S APPRENTICE--Dean Cameron helps me tell the tale of a young apprentice who casts a spell to summon demons, only to find these demons have their own plans for our young hero!

GRADUATION BLUES--Eduardo drew this series of two young high school seniors on graduation day, when they put the valedictorian's speech into action in their own horny way!

MY FIRST SUMMER SOIREE--Fans of Roscoe will recognize these images from his Timmy books (but he did these images for me first and reused them in his book), which tells about a young man trying to sleep while his mother and stepfather hold a summer soiree for a lot of horny athletes, but the athletes find the real party is happening in our hero's bedroom!

HIGH ORBIT--A four-panel set by Eduardo done more recently (my sole remaining artist as you may have noticed), it shows two astronauts in space with nothing to do but get to know each other better, and freefall adds a new dimension to their lovemaking.

This eBook is in PDF format. Delivery of the eBook is by e-mail upon receipt of confirmation of payment from Paypal. Please allow up to 24 hours for delivery; I'll send the eBook as soon as I can, but I'm a single person doing this, and I also work a full-time job.