CLICK IMAGE
TO LOOK
INSIDE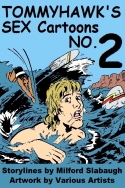 TOMMYHAWK'S SEX CARTOONS #2
PRICE: $4.00
This book is second of a series of 3, which will offer up my multi-panel Sex Cartoon Series I offered up at my paysite back in its heyday when I was making enough money from my site to be able to pay for such things. This book contains five multi-panel series with a total of 55 panels. Bought mostly back in 2003 to 2006 when monitor resolutions were less, and due to a painful computer virus attack that wiped out a lot of my archival material in 2008, many of these panels are so small I had to put them two to a page, so this book is only 40 pages long...but there's explicit sex galore just the same! The five series in this book are:


Travels in Time--Originally intended to be a series of mock travel-agency brochures offering vacation trips back in time, Dean Cameron finished nine of these before personal reasons interrupted his work. I never managed to create the text for the "brochures" so you have images with the left-hand third quite G-rated and all the action on the right, but try to enjoy the scenes anyhow.

Factory Bus Ride--My very first 12-panel series, Voyeur drew this story of a young man catching a factory's bus (these buses would pick up workers from a small town and ferry them to the factory some distance away, in case you never experienced them), and having a lot of sex with the men who share the bus on his ride. Voyeur was an artist who required photographic reference for his works and I gave him Julius images (Julius had vanished from sight at that time, presumably never to be seen again) to work from and his results reflect that. I can assure everyone that he did not trace or alter the Julius images, but the works are quite similar.

The Oingy Boingy--Eduardo drew this ten-panel short story of mine, which is a children's book that you wouldn't dare show any child that I know. But you can pretend you're seven years old again and reading this little book in a library somewhere, can't you?

Trouble in Heavy Surf--Mike D was given the task of drawing this 12-panel series, my memory is that he kind of took things his own way and I wrote the story after the fact but it's still a fun story about three guys who get into trouble for having a good time on the beach one sunny day.

Tommyhawk's Zodiac Sex Signs--Eduardo's work again, this time I had some fun with the stars, and put my own spin on what being born under specific signs of the Zodiac means in terms of how a man performs in the sack. Believers in astrology are warned that I was mainly going for laughs in this one, so this is a combination of my own reading in the art of astrology and asking myself what effect a scorpion influence would have on a personality.

This eBook is in PDF format. Delivery of the eBook is by e-mail upon receipt of confirmation of payment from Paypal. Please allow up to 24 hours for delivery; I'll send the eBook as soon as I can, but I'm a single person doing this, and I also work a full-time job.