CLICK IMAGE
TO LOOK
INSIDE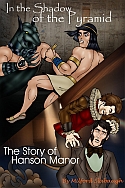 IN THE SHADOW OF THE PYRAMID
THE STORY OF HANSON MANOR
PRICE: $4.00
Two novelettes set in historical periods (though in neither case did I strive for complete accuracy, folks!), with full illustrations.

THE SHADOW OF THE PYRAMID--In this 13-part series, we follow the adventures of Kephrin, who lives with his older brother and father in the village next to the pyramid which is being built to house the remains of the current Pharaoh when he dies. He is more than content with this life and dreams only of working his way up the heirarchy of the workers and someday becoming a Master Stonecutter, but when his brother is removed as his working partner and replaced by another, Kephrin finds himself enticed into joining the Cult of the Great Architect. It all seems harmless at first, but Kephrin soon learns that this Cult is but one link in a rebellion that is about to embroil all of Egypt and place a new man on the Pharoah's throne. What can one simple stone-cutter do to save an entire kingdom when his opponents are some of the highest-level ministers of the Pharoah? Note: This story contains incest in three chapters, which I have chosen to leave in rather than tender a "sanitized" version. I'm not stating anything about ancient Egypt here, merely trying to show a culture not based upon the rules of Judeo-Christian tradition, with rules, rituals and a moral code of its own.

THE STORY OF HANSON MANOR--This is an 11-part novelette with a prologue short story containing a different hero than the novelette. In the main story, set in the year 1910, we follow the current Lord of Hanson Manor, Geoffrey Hanson, who has grown up in Canada and is seeing the lands and manor for the first time. He is there to do the best he can with the title and responsibilities but is quickly wrapped up in the drama of the ghosts that inhabit the Manor. The ghosts are of two former lords of the manor from the early 1600's, one of whom is essentially a captive and sexual slave of the other. Geoffrey and his manservant/lover Oliver must resolve the geis of these ghosts and lay them to rest before the ghosts overpower the pair and ensnare them in their unending turmoil. The illustrations of this series date from before monitors were as high resolution as they currently are, so unfortunately are smaller than the first series, I lost the larger originals in a computer crash back circa 2005.

This eBook is in PDF format. Delivery of the eBook is by e-mail upon receipt of confirmation of payment from Paypal. Please allow up to 24 hours for delivery; I'll send the eBook as soon as I can, but I'm a single person doing this, and I also work a full-time job.