CLICK IMAGE
TO LOOK
INSIDE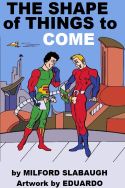 THE SHAPE OF THINGS TO COME
(And Things Just Keep Getting Better!)
PRICE: $5.00
This cartoon series takes a light-hearted look into the future and how gay men and gay relationships will evolve. No doubt about it, things are only going to get better from now on! All those hunky aliens are just out there waiting for us, and even time travel has a lot to offer (such as a new meaning to "Go Fuck Yourself!"). This book contains all 52 cartoon panels, starting with the Valentine's Day offering and running throughout the entire year of men being men in outer space and with modern technology.

This eBook is in PDF format. Delivery of the eBook is by e-mail upon receipt of confirmation of payment from Paypal. Please allow up to 24 hours for delivery; I'll send the eBook as soon as I can, but I'm a single person doing this, and I also work a full-time job.