CLICK IMAGE
TO LOOK
INSIDE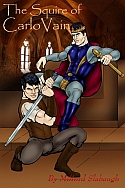 THE SQUIRE OF CARLOVAIN
PRICE: $4.00
With both of my series "The Squire and Carlovain" and "The Knight of Carlovain," this book contains the entire story of Andrew, the son of a simple innkeeper until the day that a stranger comes into his life and love. This man is the King of Carlovain, fleeing a rebellion coalition of the French lords of this small independent country. With the help of a few Royal Guards, Andrew finds himself a key player in the events that wrack his little country and helps end the rebellion and save his King and lover. In "Knight," it is five years later and a new rebellion is arising. Warned by the arrival of a mysterious sword with the message it carries, Andrew must race across Carlovain to warn the King and again save his country from rebellion and ruin. As an added bonus, I include three stories of the Carlovain legendary hero Helsalav, the Lord of the Forest.

While this book does duplicate my offering at Amazon and Barnes & Noble, "The Squire of Carlovain and Knight of Carlovain," this eBook is fully illustrated, with every chapter and every story containing the original sexually explicit illustrations from my now-defunct paysite.

This eBook is in PDF format. Delivery of the eBook is by e-mail upon receipt of confirmation of payment from Paypal. Please allow up to 24 hours for delivery; I'll send the eBook as soon as I can, but I'm a single person doing this, and I also work a full-time job.