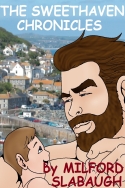 THE SWEETHAVEN CHRONICLES
PRICE: $4.00
If you love your men bigger than life, this is the book for you. These men are more than extra big, they are huge and so is every part of their body. But that's okay for our heroes, who can't get enough of that majestic man and take it all and love it!

This book is part of my "Private Collection" and if you aren't aware of the book beyond this page, please write me for more information at tommyhawk1@aol.com before ordering.