CLICK IMAGE
TO LOOK
INSIDE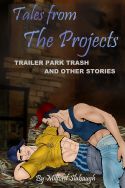 TALES FROM THE PROJECTS
Trailer Park Trash and Other Stories
PRICE: $4.00
This book contains all of my "Tales from the Projects" and "Trailer Park Trash" series, plus 14 more of my short stories, all of them about men who live in a city housing project, a trailer park, on the streets living on handouts, or just struggle to live their lives with little money and few possessions, but they still have hard bodies and hard cocks that need loving and don't mind taking their sex when and as they can. Whether they're struggling to make it until their next paycheck or just to hold onto the dignity that any man views as his birthright, there's plenty of hot gay sex to enjoy during the struggle. Caution: A few of these stories or chapters involve incest between adult-age men or forcible sex as a part of their plotline.

This eBook contains the following 30 stories or chapters with 25 illustrations (many smaller than normal, these are some of my older stories and the illustrations show it):


TALES FROM THE PROJECTS


The Son of Jack
The Brotherhood of Music
A Little Extra on the Hustle
Being Pumped by the Man
Playing with the Plumbing
Hot Night
Starting with Nothing
Finding My Father


TRAILER PARK TRASH


Lloyd and Johnny in Trailer "H"
Lloyd's Dad Comes by Trailer "E"
Scoring Some Booze at Trailer "N"
The Occupation of the Man in Trailer "D"
Spying on Trailer "J"
My Dad Takes Trailer "B"
The Secret of Trailer "A"
I Move to Trailer "B"


OTHER SHORT STORIES


Screw the Rent
Good for Nothing
Chicken Thief
Car Wash
A Pair of Strays
Plumb Got Carried Away
Honey Bear
Flophouse Rules
Burning
Eugene
A Taste of Prison
Just What I Need
Living in the Shadows
Broke for Christmas



This eBook is in PDF format. Delivery of the eBook is by e-mail upon receipt of confirmation of payment from Paypal. Please allow up to 24 hours for delivery; I'll send the eBook as soon as I can, but I'm a single person doing this, and I also work a full-time job.