CLICK IMAGE
TO LOOK
INSIDE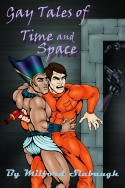 GAY TALES OF TIME AND SPACE
PRICE: $4.00
No matter where or when Mankind travels, he's still the same kind of Man and these stories prove it over and over again. A real mixed-bag of stories but all in the science-fiction vein (no fantasy or horror stories here), following the lives and loves of our gay heroes as they deal with the worlds they visit and the times they live in (or visit via high technology) and the hunky men they find and pleasure themselves with along the way. No doubt about it, wherever a gay man goes, he finds others like himself to share his fears and fortunes.


This eBook contains the following short stories:

Stoopid Hoomans--An alien proves humans are dumb by selling one a useless item (with a perk!)
The Lonesome Clones--The clone soldiers are all alike--and all of them want our hero!
Lysistrata Goofed!--A colony is in trouble when the women secede--or are they?
Professor Chetland's Experiment--A rival scientist has a surprise waiting in his lab.
The Man Who Never Was--Two soldiers are sent back in time to kill a ruthless dictator still unborn.
Secrets of the Mithrin, and of Deks--Two offshoots of Mankind are marooned together on a hostile world.
Saltlickers--He's working his father's plantation, and the secret to sucess is salt.
The Brief, Pleasant Life of Bill-23--A clone has only a few minutes to live, and lives it up.
My Alien Lover--A young anthropologist on an alien world has a native stud infatuated with him.
Riding the Jizz-Wad--Kidnaped by aliens, he must perform sexually again and again and again.
Guinea Pigs--Two young astronauts are taken for breeding stock...but both are male.
Fresh off a Flying Saucer--His new lover is out of this world, as our hero finds out.
Forever in a Day--One perfect day is all he has, and hopefully is all he needs.
Social Deviation--He is sentenced for breaking the law to live among the sub-human servant class.
The Milking Pens--A world has no animals, but has milking pens just the same.
The Man in the Mirror--A young man finds another world in an attic mirror.
Switchers--In a world where you can change bodies with other men at will, he has fallen in love...but with who?
THE TALES OF PROFESSOR ZETTER--His lab assistants are in for the time of their lives.
.....Triple Trouble--Val gets duplicated...twice!
.....Pheromone Trouble--Perry's given an aroma no man can resist!
.....Telepathy Trouble--Max is broadcasting erotic desires at every man he meets!
.....Glue-Gun Trouble--A super-glue-gun falls into the wrong hands at a football game!
.....Headband Trouble--A horny monkey and headbands that cause orgasm in men don't mix well!
Flash Fans--A movie star gets more than he bargained for with his teleportation booth.
The Sons of Anacreon--In a dark future USA, two gay men fight for freedom.
The Last Valentine--Two men in a post-apocalyptic world find a greeting card shop.
Jack and the Expanding Universe Giant--He goes back in time to find he's the biggest thing around.
The Liberation of Earth--Earth has been freed, but the inhabitants don't want to be free!
Of Time and Men--A Wild West-era man is transported to the future, but men are the same.
Second Life--A dying man finds himself living in another world in another body.
The Journey in Search of Happiness--They've both been searching for a lover online, but are worlds apart.


This eBook is in PDF format. Delivery of the eBook is by e-mail upon receipt of confirmation of payment from Paypal. Please allow up to 24 hours for delivery; I'll send the eBook as soon as I can, but I'm a single person doing this, and I also work a full-time job.