CLICK IMAGE
TO LOOK
INSIDE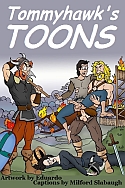 TOMMYHAWK'S TOONS
PRICE: $5.00
From men having sex and fun at the same time, to a television network that would REALLY cater to the gay audience (sorry, Logo!) to a satirical look back on things that may not have really happened in history (but could have!), these cartoons provide you with the last of the artwork done by Eduardo for me between "Life Sucks" and "Trials of Travis." This book holds my 17 "Tommyhawk's Toons" series, the 33 "Coming to KGAY-TV" series and the 20 panels of "Gay Glimpses into History," for a total of 70 images.

FULL DISCLOSURE: I did experiment on this set of images by making the pages on which they rest smaller, a computer user should view the images at "full page" scale for optimum viewing. I hope that buyers viewing them on a tablet or mobile phone will find this smaller page more manageable than my usual 8 1/2 X 11 format. Feedback from buyers would be greatly appreciated, and I can reprint this book in a larger size if it turns out to be a bad idea, so write me if you hate it, or like it, and why. Is this a better size-choice for all my books in light of current technology?

This book is almost 20MB in size due to the extra cartoons you're getting, so please be sure to provide me with an e-mail address that will accept a file of this size. Yahoo, Google and AOL all provide free e-mail accounts that will accommodate you, but be sure you let me know when you buy the book, because I will send the book to the one provided by Paypal unless told otherwise.

This eBook is in PDF format. Delivery of the eBook is by e-mail upon receipt of confirmation of payment from Paypal. Please allow up to 24 hours for delivery; I'll send the eBook as soon as I can, but I'm a single person doing this, and I also work a full-time job.