CLICK IMAGE
TO LOOK
INSIDE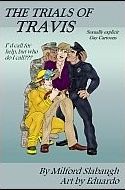 THE TRIALS OF TRAVIS, BOOK #1
"I'D CALL FOR HELP, BUT WHO DO I CALL???"
PRICE: $5.00
Poor Travis! He's young and living on his own for the first time, determined to stand on his own. His problem is, he's falling for everything! Any dumb pickup line works on Travis and the local studs are only too happy to use them on our young hero. So Travis keeps on trying and the men keep coming and coming.... This book contains the first 50 Travis cartoons and 12 new, never-before-published images in an introduction by Travis, telling of how he first set out to stand on his own...and he was already falling for everyone as you can see.

This eBook is in PDF format. Delivery of the eBook is by e-mail upon receipt of confirmation of payment from Paypal. Please allow up to 24 hours for delivery; I'll send the eBook as soon as I can, but I'm a single person doing this, and I also work a full-time job.