CLICK IMAGE
TO LOOK
INSIDE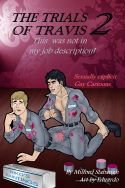 THE TRIALS OF TRAVIS, BOOK #2
"This was NOT in my Job Description!"
PRICE: $5.00
Poor Travis! He's struggling with jobs and life as he stands on his own. His problem is, he keeps on falling for everything! Any dumb pickup line always works on Travis and the local studs and bosses on his jobs are only too happy to use them to keep our hero on his knees or on his back instead. So Travis keeps on trying, and the men just keep coming and coming.... This book contains the second batch of 50 Travis cartoons and 12 new, never-before-published images in a brand-new story, "Travis' Adventures in Wonderland," telling of a day when he chases a White Rabbit down a rabbit hole, and as to what happens next...well, let's just say that Alice never saw this side of the characters in Wonderland.

This eBook is in PDF format. Delivery of the eBook is by e-mail upon receipt of confirmation of payment from Paypal. Please allow up to 24 hours for delivery; I'll send the eBook as soon as I can, but I'm a single person doing this, and I also work a full-time job.

CAUTION: THIS BOOK IS OVER 11MB IN SIZE, SO MAKE SURE YOUR E-MAIL ADDRESS CAN HANDLE IT OR WRITE ME WITH AN ALTERNATE E-MAIL. I ALWAYS SEND BOOKS TO THE E-MAIL ADDRESS SUPPLIED TO ME BY PAYPAL UNLESS YOU MAKE OTHER ARRANGEMENTS WITH ME.