CLICK IMAGE
TO LOOK
INSIDE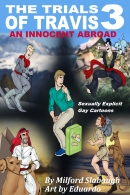 THE TRIALS OF TRAVIS, BOOK #3
An Innocent Abroad
PRICE: $5.00
After winning a game show by other-than-regular means (not that it was Travis' fault), Travis sets off on an all-expenses-paid trip around the world, and wherever he goes, there's always a bunch of horny hot studs waiting to show him a good time. From England throughout Europe, then to Egypt, India, Indonesia and Australia, there's always plenty of fun for Travis, and all the hunks around the world give him the time of his life!

In addition to the 48 images (uh, 43 images, but the last image has six variations and all are supplied in this book), this book also includes "Travis in the Land of Oz" with 12 all-new illustrations. In this novellette length story, we follow Travis as he ends up in the Land of Oz and has his own adventures on the Yellow Brick Road as he travels to the Emerald City, and from there goes on a mission to rescue Prince Ozzakar, the rightful ruler of Oz, to restore him to the throne.

This eBook is in PDF format. Delivery of the eBook is by e-mail upon receipt of confirmation of payment from Paypal. Please allow up to 24 hours for delivery; I'll send the eBook as soon as I can, but I'm a single person doing this, and I also work a full-time job.

CAUTION: THIS BOOK IS OVER 11MB IN SIZE, SO MAKE SURE YOUR E-MAIL ADDRESS CAN HANDLE IT OR WRITE ME WITH AN ALTERNATE E-MAIL. I ALWAYS SEND BOOKS TO THE E-MAIL ADDRESS SUPPLIED TO ME BY PAYPAL UNLESS YOU MAKE OTHER ARRANGEMENTS WITH ME.