CLICK IMAGE
TO LOOK
INSIDE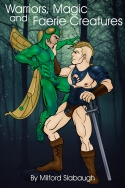 WARRIORS, MAGIC AND FAERIE CREATURES
PRICE: $4.00
In lands where magic is real and strange beings the equals or more of Man dwell, the love of one man for another remains the same strong force as before, overcoming all kinds of magical forces and overlooking the differences of the men of other races in light of the similarity of the joy of sex in all ways and kinds. This book contains 26 stories (16 with illustrations) of men, faerie creatures of all kinds, and monstrous beings with even bigger dongs than the men they encounter, but in every event, our men are more than equal to the adventure that awaits in bed and out.


This eBook contains the following short stories:

The Discontented Pixie--Birchbark is an unhappy pixie until a friend helps him out.
A Basket of Goodies--An old fairy tale with a new and more ominous twist.
Alliance by Marriage--The marriage will form an alliance, but no princess...okay, he'll marry the prince instead!
Chopwith and the Ogre--Chopwith can win the ogre's treasure by answering the riddle...it's winning hints that are the real pain!
While Dragons Sleep--They travel to fight dragons in winter...but the trip is well worth it!
The Gelroc Warrior--The new mercenary may be a gelroc, but he still needs a place to sleep!
An Immunity to Pain--A spell means that anything that happen to the Prince will happen to the spy...so the Prince sets out to make the spy suffer!
The Invisible Prince Titan--The gift of invisibility made the Prince happy...but was he truly invisible?
Lead Wolf--He is the lead wolf of his small pack...and about to get a new member!
The Sapphire Sorceress--She set out to raise herself a husband...but he has other plans.
The Curse of Thirst--The cruel Guard captain is cursed with a thirst for human sperm!
The Grancel Hunter--When an infestation of grancel invades, it takes a special man to deal with them.
Day and Night--Master and slave by day...and slave and master by night.
The Love Bug--A captured love bug begs for release...which is a big mistake!
An Encounter by the Road--A thief on the run entertains an unusual night visitor.
Sticky Fingers--Two thieves caught by a wizard suffer an unusual fate.
Aphrodite's Reward--A love potion from the love goddess, a disaster when the vial is broken!
Sea Fever--The isolated cove has a mysterious resident as our hero discovers.
Starshine Petals--A mission to pluck a favorite garnish results in odd adventures.
Island of the Siren--How can these shipwrecked sailors resist the siren's song?
Suffish and the Giant--He set out to steal from giants, and his heart was stolen instead.
The Love Spell--They had a love spell which actually worked...a little too well!
One Good Wish--He saves a gypsy's life and is granted a wish...but what should he wish for?
The Last Warrior of Oparia--His Empire destroyed, a lone warrior strives to build a new life.
The Chosen One of Langolen--A mysterious doorway leads our hero to a new and wonderful life and love.
A Mercenary's Life--After a battle, a surviving peasant discovers a new life with the mercenaries he fought alongside.
Pan and the Woodcutters--A young Prince slated for death finds life and love among a group of woodcutting brothers.
Prince Adran and the Fairies--Fairies were known for their talent of helping gay men find each other.
The Trading of Sons--Traded by his father to a rival tribe, our hero must make a new life for himself with his new family.
The Tale of Davoud and his Magic Rug--My "Arabian Nights" tale of a man who finds a wondrous rug, and with it, a wonderful new life.
The Man in His Cage--There was a reason the naked man was locked in that cage!
A Potion Commotion--Sent to buy a love philtre for his sister, our hero buys two...but there's a mixup here....
Prince Yild's Quest--He must rescue the fair princess by braving the horny trolls--but his reward isn't what he expected.
Shapeshifter--He thinks by drinking the potion he'll win the fair lady...but he picked the wrong target.
The Aftermath--After a fierce battle, two warriors find relief with each other.
The Faery Winter--A young Irish man spends the winter with some very friendly faeries.


This eBook is in PDF format. Delivery of the eBook is by e-mail upon receipt of confirmation of payment from Paypal. Please allow up to 24 hours for delivery; I'll send the eBook as soon as I can, but I'm a single person doing this, and I also work a full-time job.