CLICK IMAGE
TO LOOK
INSIDE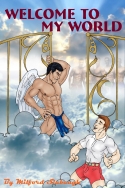 WELCOME TO MY WORLD
PRICE: $4.00
The problem with trying to put an eclectic variety of short stories into books is that you always have some stories left over that either didn't fit into the categories of the earlier books or didn't fit into the slots available inside their categories. So to wrap up my offering of my Fantasy World short stories into PDF-format books, here is the rest of the short stories (uh, I may have overlooked a few, I'll look things over in more detail now the pressure is off, these books take a long time to fix up!). I can't describe this mix better than to give you the summaries below. The book has 30 stories with 25 illustrations. This eBook contains the following short stories:


Say the Wrong Thing--He's always had his foot in his mouth, until the Army stud came along.
A Couple of Fucking Amateurs--Two burglars meet up with an angry homeowner with a unique revenge in mind.
Private Eye--He follows his client's husband into a gay bar, only to get picked up by the husband.
The Ex-Steps--He's been dumped for the summer on his ex-stepfather and two ex-stepbrothers.
Life, Interrupted--A man finds his son in a gay relationship, which brings back memories.
Lucille--When a co-worker's wife dumps her husband, our hero is left to pick up the pieces.
No Free Rides--Stranded in the wilderness, three men have to pay the price of rescue.
Goin' Home--A visit to his childhood home lets him renew acquaintance with his neighbors for the better.
Hard Negotiations--His job is to get the football player into his college at any price, including himself!
An Eton Education--Two students at Eton discuss a baffling encounter one had with a professor.
Sleeping with Willie--The traveler ends up in the farmer's son's bed, and it comes with benefits.
The Eyes Always Tell--He could always spot a gay man by the look in their eyes, but what about his own?
Southern Comfort--Living in the South requires learning Southern conventions in detail.
Flying by Night--An airline steward works a late night flight, and has plenty to do.
Teacher's Pet--He's the new teacher's favorite student, but wasn't expecting what that meant.
A Fourth for Tennis--He's chosen to play a tennis foursome, but didn't know the stakes he was playing for.
Trespassers Will Be Violated!--The hunter went onto land marked "No Trespassing" and paid the price.
On this Spot--Two college men visit an historic site in the desert where memories linger.
Under Cover--A cop has to stay undercover even when the crime boss uses him to punish a rebellious underling.
Summer of the German Bikers--His summer hike of Germany is visited by a pair of horny bikers.
Roofie, Roofie, Who's Got the Roofie?--His frat has a weekly drinking game where one drink hold a roofie.
Health Inspector--His inspection of the restaurant is complicated by the owner's tactic to gain a reinspection.
Special Agent--An agent sent on a mission finds his instructions baffling but imminently satisfying.
Milking--He's working the summer on a dairy farm, but ends up milking the hired hand instead.
What You Say--A weekend dorm game of guys watching a game and talking (and doing other things.)
Meeting the New Minister--His mom drags him to see the new minister at the church, but he ends up with more than a meeting.
A Teacher's Duty--He has to fail four students, who exact a revenge for having to attend summer school.
Snowbound!--Three friends are snowbound in a mountain cabin all winter, and must pass the time.
Shhh!--He's picked up in the bar by a man who needs his help to avoid detection in an odd way.
Just Plain Bad--His friend is described as "just plain bad," but that evening, the friend is very, very good.

This eBook is in PDF format. Delivery of the eBook is by e-mail upon receipt of confirmation of payment from Paypal. Please allow up to 24 hours for delivery; I'll send the eBook as soon as I can, but I'm a single person doing this, and I also work a full-time job.