CLICK IMAGE
TO LOOK
INSIDE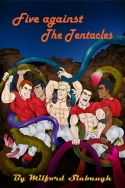 FIVE AGAINST THE TENTACLES
PRICE: $5.00
A story in 25 chapters of hot tentacle sex with 23 illustrations by Eduardo. Five 18-year-old football players traveling home from an away game are caught up by a strange light in the sky that envelops their car. They awaken separately, spread about a strange new world where tentacled beings rule the land, pouncing and having sex freely with the humans that share their world. These five are:

BRIAN arrives in the land of the Matisah, odd intelligent tentacled aliens who rule the lands of the East and the men that live there revere them as gods! Are the Matisah allies of Mankind in the troubles that will follow, or enemies? And how is Brian going to find out when everyone he meets is under their thumb?

NELS lands among the Von'Non'Dem'Nay, who live like tentacled sultans served by their human slaves. And Nels has been rescued by one, believes that they are the saviors of Mankind to be served loyally after they've satisfied their lusts with their male servants.

MOOSE arrives in the middle of a thick jungle with no idea which way civilization lies. A golden tentacled creature lands on his back...and becomes his very best friend after fucking him silly! Has Moose found an ally on this world, or is he under a golden tentacled thrall?

MARCUS finds himself in the Northern lands, which are held by humans who are wild as the land they live in. He is saved from a lustful tentacled attack by a strong young man who befriends him...or is he simply tricking Marcus until he can turn Marcus over to the Von'Nom'Dem'Nay for money?

ESTEBAN ends up in the jungle as well, and is promptly captured by the human natives that live there. They promptly string him up and offer his tender virginal ass to their immense, tentacled, living god! He is carried away by the "god" who intends to keep Esteban as a personal sexual prisoner in his high mountain lair.

These five young men must endure the sexual assaults that punctuate life everywhere on this world of tentacled life, but as they find each other and learn the ways of love among the tentacles, they discover that there's more to tentacle sex than horny aliens and violated buttocks...it is the gateway to the salvation of Mankind, and the five of them are the ones that wield the keys! Can they use tentacle sex to win the war that is coming, and build a lasting peace?

This eBook is in PDF format. Delivery of the eBook is by e-mail upon receipt of confirmation of payment from Paypal. Please allow up to 24 hours for delivery; I'll send the eBook as soon as I can, but I'm a single person doing this, and I also work a full-time job.