CLICK IMAGE
FOR A FREE
STORY FROM
THIS BOOK!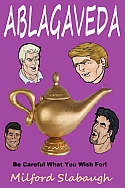 ABLAGAVEDA
PRICE: $4.00
Liu Wei Wang is a third-generation Chinese-American college student who has just received a remarkable package with no return address and within is an oil lamp reminiscent of Aladdin's magic lamp. He rubs the lamp in play only to discover that it actually does hold a genie who offers to grant him three wishes. He blows the first two with dumb questions (they count as wishes!) and his last one has to be good, so he goes for it big-time...he wants to be able to have sex with any man he wants at any time!

The genie grants this by giving him the Word of Power, "Ablagaveda" and when he says it, the magic happens..a little too well! But the geis of the lamp requires him to ship the lamp off to someone else at random and this also has ramifications for our hero and everyone else, for the new unknown owner has chosen to become lifelong President of the USA! How can Liu and his new friend Sean (mysteriously immune to the Word) fight off this threat to Mankind with only Liu's power to seduce any number of men at once in their favor? Can a man fuck his way to victory?

This eBook contains twelve chapters with five illustrations and one very-old photo from the Web which happens to be right "on point" (sorry, I can't afford to buy illustrations any more and my stock of illustrations I have the rights to is limited), but the sex is hot and non-stop, because when you throw a rock into a pond, the ripples go out to the very edges of the pond every time!

This eBook is in PDF format. Delivery of the eBook will be by e-mail upon receipt of confirmation of payment from Paypal. Please allow up to 24 hours for delivery; while I send the eBook as soon as I can every time (and can send it from my iPhone while on the road), I'm a single person doing this, and I also work a full-time job. Not to mention that emails can be clogged up by their servers for hours on end, too!