CLICK IMAGE
TO LOOK
INSIDE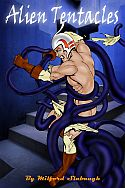 ALIEN TENTACLES!
PRICE: $4.00
This book contains 16 stories or chapters (with 11 illustrations) about men who find themselves the object of alien lust, and the aliens demonstrate that lust by the means of long, slithering tentacles that snake out and around to first ensnare the man, then more begin to slide up his legs into his ass and up through his mouth open in a scream, until they have him filled full to choking from both ends, while another tentacle plies itself over his burgeoning dong, milking him forcibly as he is violated, until our hapless hero can't help but give his heart and soul along with his spunk to the horny alien beings in full creamy measure. And after that, of course, this man is spoiled for regular sex; he has to have those horny tentacles all over himself again and again and again, and the aliens are only to happy to keep him supplied.

In an effort to make this a complete collection of all my gay tentacle sex in a single volume, I'm also giving you all five of my "Shape of Things to Come" panels that deal with tentacle sex as well, for a total of 16 illustrations inside!

This eBook contains the following stories with 16 illustrations of gay tentacle sex:


In the Beginning
The Sacrifice
Rescuing a Superhero
Within the Maw
The Natives Are Friendly
A Trade Deal
Five "Shape of Things to Come" Panels
Easter on Insehlah
How to Survive on Eumica-5
The Bayou Beast
PENIS-SNAKES ON A PLANE SERIES


Chapter One: The Invasion of First Class
Chapter Two: The Assault on Business and Coach Classes
Chapter Three: Approaching the Landing Strip


The Wall of Gods
Playing with Magic
Selection from "Secret of the Turtle Men"
The Thing in the Basement



This eBook is in PDF format. Delivery of the eBook is by e-mail upon receipt of confirmation of payment from Paypal. Please allow up to 24 hours for delivery; I'll send the eBook as soon as I can, but I'm a single person doing this, and I also work a full-time job.