CLICK IMAGE
TO LOOK
INSIDE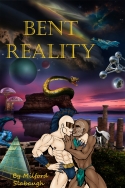 BENT REALITY
PRICE: $4.00
Welcome to the "Twilight Zone" of my stories! This book contains thirty off-beat tales (24 with illustrations) of gay men in circumstances where something is more than a little out of whack! Whether it ranges into the realm of science fiction or fantasy, or is just a small tweak to the world as it is, our hero has to deal with things as they are if he's to find his one true love. From alternate dimensions to altered time and space to myths that never were, there's always love involved, and love triumphs over all!


This eBook contains the following stories:

The Fruition of the Earth--A myth of creation and the love between Earth and Sky.
Certificate of Virginity--The law says our hero has to have sex with the nerdy guy...or else!
The Pipes of Awakening--The saytr's pipes summons the young men to gather and to love.
Broken Wing--When he rescues the angel, he is rewarded and then some!
The Man Who Remembered--The stranger can't remember who he is until he is loved.
Almost Touch the Stars--The starwatching man isn't watching...he's waiting to touch them.
Caught in the Middle--The forces of Good and Evil strive to claim him for their own!
Shop 'Til You Drop--He just wants to buy clothes...but everyone wants him!
Doll's Eyes--A naive young man, a lewd neighbor, and a doll with strange powers.
Guardian Angel, Personal Demon--A man's life is their battlefield and their reason to love each other.
Man in God's Image--A minister in the jungle finds that there's more than one version of Creation.
The Day of Remembrance--In a world without women, two men carry on a ritual of remembrance.
The End of the World--When the world's about to end, you take what you can get.
The Psychic Psychiatrist--He journeys inside a troubled young man's mind.
Scholarship Application--Gay men are so rare, the ones left get help in college.
GI Joe and Ken--Ken finds that he likes GI Joe better than Barbie.
In the Great Hall--A Viking warrior waits in Valhalla having wild times with his comrades.
The Rainbow Ring--The rules don't always apply in a castle on the edge of the world's rim.
In Love with My Own Penis--In the time between two instants, a man talks with his penis.
Better Angels--He keeps seeing his true love in his dreams, who asks when he's going to come looking.
A Slip in Time--He forgot Daylight Savings Time, with time-altering results.
The Infinity Watch--A watch has the power to stop time for our hero and his lover.
Ah's House of Bottled Dreams--A strange shop full of bottles, and in the bottles are dreams.
Master of the Hand--One touch of his hand and nobody can resist him.
A Love of Variety--He mourns his friend, only to find that his friend hasn't forgotten him.
Some Die Hard--He has to bury the man, but the man won't go until he gets some one last time!
For a Starry Night--He and his friend share a love of the stars one final time.
The Jeweled Mirror--A strange mirror reflects more than what he sees.
See You in My Dreams--He's dreaming of the same man...who is dreaming of him!
Selling My Soul--He sold his soul to get the man he loves, and now it's time to pay the price.


This eBook is in PDF format. Delivery of the eBook is by e-mail upon receipt of confirmation of payment from Paypal. Please allow up to 24 hours for delivery; I'll send the eBook as soon as I can, but I'm a single person doing this, and I also work a full-time job.