CLICK IMAGE
FOR A FREE
STORY FROM
THIS BOOK!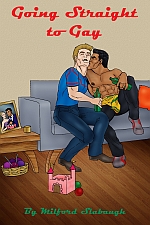 GOING STRAIGHT TO GAY
PRICE: $4.00
A man may be straight, but when it comes down to getting his rocks off, every man will dive right into the arms of another man! These are stories of those men, sixteen all-new stories and a new four-part novellette (with an X-rated illustration on each story or chapter) of straight men who find themselves taking a walk on the other side and finding the grass there is pretty damned green! These big, muscled, horny studs find their only choice is to stick that hard dong into another man's mouth or ass and they discover that their best friend since childhood doesn't care where the fun is coming from as long as it's fun! And when they get that far, many of these men decide to try sucking a thick dripping pud for themselves and taste that hot creamy love-juice.

This eBook contains the following short stories:

Another Kind of Jail--An ex-con gets a visit (and more) from an ex-cellmate.
The Lock and the Key--When you burgle a wizard, you have to expect the unexpected.
The Lion's Share--When their leader take all the women for himself, the men turn to each other.
Droit De Seigneur--He has married a Princess, but her father wants to claim the privilege anyhow.
Establishing Relations--A Space Marine finds himself drawn into a strange planet's politics.
Mating Day--He has one day to find a wife, and when he can't, what's left?
King of the Mountain--A guide takes two men on a hike, but is the one who learns something new.
High Stakes--A remote factory's men have a poker game for unexpected stakes.
The Home Game Advantage--Two baseball players of a defunct team must find a new home.
Something to Eat--Marooned on a poisonous world, he is in danger of starving, until the natives offer him food.
Any Man Can Be Had--A four part novellette. The graduate student who has the doctoral thesis that any man can be seduced...but has to prove it!
The Revenge Practice Session--Two men whose wives have cheated on them plan their revenge together.
Might As Well--A trucker finds out his new partner is gay...which leads to some benefits when marooned together in a blizzard.
Always Remember to Forget--To keep his wife and marriage, a man gets his memory wiped...but there's more than one way to have the past come back to you.
The Long Voyage--Two men on a year-long space trip need a way to pass the time.
That Damned Bitch!--He thought he'd share a beautiful woman with another guy, but ends up stuck to the other man!
A Matter of Perspective--A spaceman is stuck with a bigot in another dimension, but the aliens who live there have an unusual answer to this problem.

To these stories I have given, as an added bonus, an article I wrote for "The Advocate" under the pen name "Jason del Maris" back in 1989, called "How to Seduce a Straight Man (Though God Knows Why You'd Want To!)"...both the published article, and the original version which was too raunchy for "The Advocate!" This original version is a tongue-in-cheek how-to article about the process of getting a man into bed...whether he wants to get in there or not! Of course, once he's in there, he's going to have a good time. Note that the original-version article is NOT included in the Amazon or Barnes & Noble offerings of this book (only the later Advocate version) because, let's face it, some people out there have no sense of humor. The Amazon and B&N versions of this book only contain the final "Advocate" article.

This eBook is in PDF format. Delivery of the eBook is by e-mail upon receipt of confirmation of payment from Paypal. Please allow up to 24 hours for delivery; I'll send the eBook as soon as I can, but I'm a single person doing this, and I also work a full-time job.