CLICK IMAGE
TO LOOK
INSIDE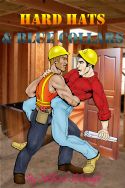 HARD HATS AND BLUE COLLARS
PRICE: $4.00
This book contains 30 of my stories about men who work hard, play hard, and love hard. And what they love best is another hard man with a hard cock to satisfy their hard appetites! All of these are tales about working men, whether they wear a hard hat or just the heavy-duty blue work-shirts that can take a beating. These men don't mind getting dirty whether it's putting in a good day's work or getting their rocks off with another hot stud. The tales range from hot-and-heavy action to tender love tales, but all of the men are blue collar and proud of it.

This eBook contains the following 30 stories with 18 of them also carrying an illustration:


The Apprentice
Bubble Butt
Getting Her Wet
Tough Job Market
Hard Men
Double Preggers
Roughneck Poetry
The Bearís Christmas Bonus
Steel Men
Momís New Apartment
Mean Boss
Castoff Goods
Betterín a Singing Telegram
A Good Old-fashioned Butt-pounding
Plumberís Helper
Just What I Need
Hot Day on the Job
Open Window
Workers and Techs
Laying Pipe
A Piece of the Action
Car Wash
Hell of a Job
Job Competition
Fedex V. UPS
Muddy Work
Paybackís a Bitch!
Rebuilt
Think Youíre Hot Stuff
Saving Daylight Time



This eBook is in PDF format. Delivery of the eBook is by e-mail upon receipt of confirmation of payment from Paypal. Please allow up to 24 hours for delivery; I'll send the eBook as soon as I can, but I'm a single person doing this, and I also work a full-time job.