CLICK IMAGE
TO LOOK
INSIDE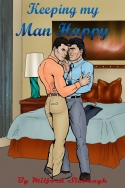 KEEPING MY MAN HAPPY
PRICE: $4.00
Finding the right man turns out to only be the start of the fun! In these 30 stories (26 with illustrations), we explore what happens to gay couples after they've done all the meeting and dating and moving in together. These men's adventures range from an adventure with a bubble bath to a misdirected box of ladies' lingerie to finding oneself living with the Easter Bunny! But whatever it is, our heroes know they've found the right man to share their life and love and are ready for the challenge.


This eBook contains the following stories:

Bubble Trouble--Sharing a bubble bath with his lover...oh, if only it were that simple!
How to Draw the Prophet Mohammed--What can you do with a man who wants to insult everyone?
Pretty Panties--A box of sexy lingerie in a deserted outpost leads to lots of good times.
A Heavenly Halloween--He's the Devil, his lover is an angel, and it's time to get nasty!
My School Is Now a Wal-Mart--His childhood house is changed forever, now it's time to go back home!
What a Roommate's For--When his roomie's had a bad night, he's there to comfort the guy.
Inspiring Physical Therapy--He'll make the man do his therapy, whatever it takes!
Landing Day Celebration--In the future, two lovers celebrate an important holiday.
Full Immersion--His lover wants him to move in...under the water!
Virtually Real--If you can't find the perfect man, just create him for yourself!
Turkey Surprise--A rich lover and a Thanksgiving feast...with a twist.
Hot Times in the Year 2071--Two lovers share a new purchase with some old-fashioned fun.
Merry Sockmas--His lover's mother gave socks for Christmas, so they make use of them.
Drizzle-N-Lick--A special inherited secret recipe calls for a special secret ritual.
Ab Blaster 5000--Two lovers find a novel use for a new piece of exercise equipment.
My Lover, the Easter Bunny--When your lover's the Easter Bunny, you have to hop to it!
Chasing Rainbows--Two Irish men chase a rainbow and the pot of gold waiting there.
The Blank Wall--He awakens with a missing memory, but a loving comrade to help him.
Go F Yourself--Why is his lover unhappy? He's out to find out by loving himself.
Under the Kilt--A Scottish lover shows off the advantages of traditional attire.
Expedition to Simismire--A handsome warrior, a misshapen mage...and it's true love.
Crossed Blades--Two fencing advocates face off for battle, then some fun after.
Market Penetration--It takes clever business sense to keep this customer happy.
Talking with Larry--A bitter dispute with his wife sends our hero to a faithful friend.
Washing the Car--A warm spring morning, a dirty car, and two lovers full of suds.
Christmas Lies--His lover experiences his first Christmas and has an interesting question.
Return to Earth--In the Earth's final days, two men pay a visit to the dying world.
Crybaby--The erstwhile burglar catches himself, but our hero ends up caught as well.
Beginning to Look like Christmas--Time to decorate the house, then reward his lover.
It Takes a Lot of Living--Moving into a new house, now it's time to relax and love.


This eBook is in PDF format. Delivery of the eBook is by e-mail upon receipt of confirmation of payment from Paypal. Please allow up to 24 hours for delivery; I'll send the eBook as soon as I can, but I'm a single person doing this, and I also work a full-time job.