CLICK IMAGE
TO LOOK
INSIDE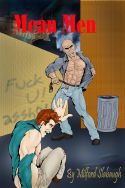 MEAN MEN
PRICE: $4.00
This book contains storylines you'll never find at Amazon or Barnes & Noble, this book contains 30 of my stories about mean, rough fuckers who don't ask for sex, they just take it. The storylines border on, and occasionally cross over into, rape scenarios, but usually our hero gets into the action. Sometimes, he's even the bastard who's taking what he wants! This eBook contains the following 30 stories with most of them also carrying an illustration:


A Couple of Young Punks
Discharging the Trust
A Good Old-Fashioned Butt-Pounding
Caught in the Act
I Love My Job
Knight Takes Pawn
Cheating on Boyd
Good for Nothing
Keeping Bodie Happy
The Puppy and the Corvette
Timeshare
Spoofing the Sarge
Workboots
Bully
No Solicitors
Rear-End Collision
Rogue Cop
The Satanís Bargain
Whatever Honey Wants
In the Pit
A Real Man
No Free Rides
A Prison Christmas Present
A Couple of Fucking Amateurs
One Can Look at the Father
Cut-Throat
Unorthodox Honeymoon
Mocking the Masqueros
Whoís the Hero Now?
Thatís an Order!


This eBook is in PDF format. Delivery of the eBook is by e-mail upon receipt of confirmation of payment from Paypal. Please allow up to 24 hours for delivery; I'll send the eBook as soon as I can, but I'm a single person doing this, and I also work a full-time job.