CLICK IMAGE
TO LOOK
INSIDE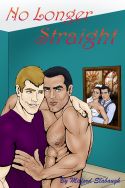 NO LONGER STRAIGHT
PRICE: $4.00
This book contains 30 of my stories about straight men, either our hero or our hero's best buddy, who find themselves trying out gay sex for a change. Whether their experience starts as a compulsory act or blackmail, or whether they are simply tired of trying to deal with the women in their life, these straight studs find out how great it is to suck cock! And once these straight dudes ride a hot stud with a hard dong, they never want to go back! The tales range from hot-and-heavy action to tender love tales, with some hot brother-in-law action (something Amazon wouldn't let me give to Kindle readers!)

This eBook contains the following 30 stories with 17 of them also carrying an illustration:


Starting Over
Chick Flick
Almost Caught
Birthday Blow-And-Go
Fanuatapu Honeymoon
One of Each
Jim Moves In
Payback's a Bitch!
The Price of Fame
Bachelor Party
Fractured Families
Don't Sleep with Your Boss!
Love Conquers All
A Gay Study
That Secret Smile
Getting Her Wet
The Man on the Stairs
The Courting of Maggie O'shaughnessy
The Handyman
The Family Man
Crazed Monkeys
Double Preggers
The Magic Switch
Just What I Need
All a Man Wants
It's Too Bad
Whatever Honey Wants
The Marriage Fixer
The Bear's Christmas Bonus
The Flap of a Butterfly's Wing



This eBook is in PDF format. Delivery of the eBook is by e-mail upon receipt of confirmation of payment from Paypal. Please allow up to 24 hours for delivery; I'll send the eBook as soon as I can, but I'm a single person doing this, and I also work a full-time job.