CLICK IMAGE
TO LOOK
INSIDE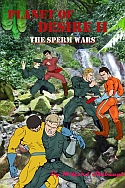 PLANET OF DESIRE II: THE SPERM WARS
PRICE: $3.00
Ten years after the events of "Planet of Desire," Ivan is married and has clone-children of his own courtesy of the "Tree of Children." But these aren't ordinary children, they mature in half the time of an Earth-normal child, and reach maturity only with aid of the grunkel, an animal unique to Desire. When Ivan's oldest son goes through this ritual of maturity, he is left wondering about the mystery of the grunkels and their unique role in society. He resolves to follow the next grunkel to its destination after servicing a child-become-man, only to find himself embroiled in the politics of the valley to the north of their own, and before it is done, he will have waged a war in which all weapons involve sex, and the changes this war begins will change life on the planet of Desire forever!

A series in 26 chapters, this book is fully illustrated but (full disclosure here), the images are mostly of low-grade quality(intended for viewing on monitors with much lower resolution than is the norm these days, and it shows!), and for that reason, I am offering the book at its lower price, treating it in effect as an unillustrated book.

Also, there is infrequent incest in this book, it is central to the initial plot and consistent with the differing morality that this world's odd conditions impose on all the men who live here, that is, the need for frequent sex sometimes leaves a man with only close relatives for his partners. There is no underaged sex (barring the fact that a child becomes a man as a single life event at the physical age of 9...but is a man in fact) in this story, however. If such storylines bother you, please give this book a pass.

This eBook is in PDF format. Delivery of the eBook is by e-mail upon receipt of confirmation of payment from Paypal. Please allow up to 24 hours for delivery; I'll send the eBook as soon as I can, but I'm a single person doing this, and I also work a full-time job.