CLICK IMAGE
TO LOOK
INSIDE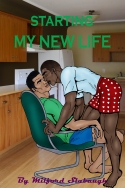 STARTING MY NEW LIFE
PRICE: $4.00
When you find the man of your dreams, the one that you want to spend the rest of your life with, the first thing you do is start that new life, which always involves changes that can be easy or dramatic. This book contains 30 stories (all 30 with illustrations though I had to borrow from old stories by other authors to do it) of young men who have made that lucky strike, they've found their man, now they're ready for what their new future holds!


This eBook contains the following short stories:

The Roustabout Way--He's visiting his Dad at a traveling carnival, but the owner has plans for him!
Odd Men Out--The two single men at a couple's party make a couple themselves.
Cool Moonlight and Warm Guitars--The mysterious matador finds the answer in our hero.
Nothing to Do All Summer--A teacher in summer is visited by an ex-student (who's naked!)
All a Man Wants--His friend is having problems with his wife, but our hero knows why.
The Cure for What Ails You--Two men after a very drunken New Year's Eve party console each other.
Juneteenth--Two black men celebrate the holiday with each other.
The Hitchhiker--The hitchhiker teaches our hero a thing or two on the ride.
Peanut Butter--He has a secret weapon to get the stud--peanut butter!
Freedom Fighter--A freedom fighter finds his freedom in the arms of another man.
The Play's the Thing--Two actors take their pleasure in between their on-stage scenes.
The Last to Leave--He's going to prove his worth to the company, whatever it takes!
Reality Show Fallout--The reality show star seeks privacy and relief with our hero.
The Only Girl for Me--The stud is marrying our hero's sister, and will be (mostly) faithful to her.
Cut Off!--When your wife cuts you off, a guy is luck to have friends who can help out.
Sweet and Sour--The Chinese restaurant server is like the entree, sweet and sour, but why?
Watching the Neighbors--He picked the new apartment for its view...of the neighbors.
Lost in the Fog--His drunken roommate is out of things, and at our hero's mercy, or is he?
What She Sees in Him--A man is wondering why his wife likes the guy...and finds out!
Pet Shop Pals--A children's show is our hero's entrance into his acting career.
Why the Adventurer--He wonders why the adventurer picked his career, and is shown why.
Pantsed!--His shorts have been pulled down by the gym hunks, revealing his erection.
Early Snow--Two Army buddies on leave find their love together under an early snow.
Happy Fucking Birthday!--It's his 18th birthday and the neighbor boy has a special present.
The Runaway Groom--He's the best man for a groom who is having second thoughts.
Seal the Deal--His father is only going to get the contract if he sleeps with the guy.
The Other Football--Soccer versus American football, but that doesn't mean they hate each other.
Soccer Dads--Two divorced fathers wait for soccer practice to end with each other.
To Test a Thief--His test to gain entrance into the Thieves' Guild has unexpected results.
The Passing of the Torch--He is coach to the best American candidate for the Olympics.


This eBook is in PDF format. Delivery of the eBook is by e-mail upon receipt of confirmation of payment from Paypal. Please allow up to 24 hours for delivery; I'll send the eBook as soon as I can, but I'm a single person doing this, and I also work a full-time job.