CLICK IMAGE
TO LOOK
INSIDE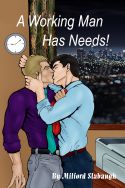 A WORKING MAN HAS NEEDS!
PRICE: $4.00
This book contains 30 of my stories about your average working man, whether he's working a pizza shop, pounding the pavement as a salesman or an office cubicle wage slave. But even though they may not make a lot of money or the headlines, these are still men and they still have the same needs as anyone else. But when you're working all day, where are you going to find your fun? Well, it turns out that there's opportunity everywhere, whether it's on the job or when kicking back a drink at Happy Hour afterwards. And when these men get their chance at hot man/man sex, they don't waste any time or energy!

This eBook contains the following 30 stories with 25 of them also carrying an illustration:


Completely Trusted
Back of the Van
Sweat
A Dying Request
Checking out the Bagger
Franklin's General Store
A Catered Affair
Grand Opening
The Secret Santa Gift
Splattered!
In the Service of My Country
After All These Years
Family Fortunes
Drunk at the Inferno
Captain Cosmo Sucks!
Corporate Acquisitions
A Craving for Slim Jims
Rained out
Stiff Upper Lip
Stone Cold Sober
Hard Copy
Business Assistant
Behind the Puppets
Hey, Dave!
The Man Sandwich
Fratrow's Pizza
Midnight Visitor
A Failure to Communicate
A Visit from Tory
All Is Well



This eBook is in PDF format. Delivery of the eBook is by e-mail upon receipt of confirmation of payment from Paypal. Please allow up to 24 hours for delivery; I'll send the eBook as soon as I can, but I'm a single person doing this, and I also work a full-time job.