CLICK IMAGE
TO LOOK
INSIDE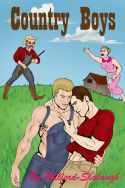 COUNTRY BOYS
PRICE: $4.00
This is NOT the book you can find at Amazon or Barnes & Noble, but an all-new book containing many (but not all) of the Kindle or Nook book with the similar name; this is my attempt to put ALL my stories (not just the ones that pass the censors) along with the illustrations from my Fantasy World into a single book format. This particular book focuses on my stories about men who live their lives in the country, and a part of their simple lifestyle is their simple and uncomplicated sexuality, both manly and generous. This eBook contains the following 30 stories with their illustrations:

How Can You Keep Them Down on the Farm?
Chicken Thief
Cheating on Boyd
A Bit of Hillbilly Medicine
Paris Versus the River
The Day the Martians Came
Lou P. Garrew
Honey Bear
The Hexing of Josh Turner and Ed Parsons
Doctor Jasper Johnsonís . . . Super-Secret Nut Creme
Plumb Got Carried Away
City Folksí Ways
The Spirit Harvest
Lost Innocence
Burning
Squeeze On Over
Cletus and the Gris-Gris Bag
Farmwork is for Suckers
No Good Reason Why Not
The Big World Out There
Where the Real Men Are
Country Cousin
Larruping
The Marriage Fixer
The Consolation Prize
Finding Maw a Man
Saturday Night Bath
A License to Hunt
Hayseed
Baby, Itís Cold Outside!

This eBook is in PDF format. Delivery of the eBook is by e-mail upon receipt of confirmation of payment from Paypal. Please allow up to 24 hours for delivery; I'll send the eBook as soon as I can, but I'm a single person doing this, and I also work a full-time job.