DID YOU BUY ONE OF MY BOOKS AND NOT RECEIVE IT?
I always send out my books by e-mail to the address given on your Paypal account. If you don't get the book within 24 hours, you either aren't receiving my e-mails and/or can't accommodate a 9MB file. You need to change your Spam settings to not automatically delete e-mails, and check your Spam folder for my e-mails. If your e-mail account can't handle a file in the 5-10MB size range, I will need a different e-mail where I can send you the book. And by the way, once I have sold you a book, I will send it to you again as many times as you need me to, think of it as insurance against computer crashes, just write to me with the same e-mail as you have on the Paypal account, that's all the confirmation I need and I have the data on my book sales safe from any crashes on my side.



DONATE TO
TOMMYHAWK'S FANTASY WORLD
Help me to keep this ad-free story site going,
and to afford to spend my time writing more!

SAMPLE STORIES
One New Sample Posted Every Week
Plus One Sample Re-Run From Last Year
NOW ON SALE!
USE THE "CLICK TO LOOK INSIDE"
FOR MORE FREE STUFF!



Social Deviation
In the far future, Mankind has branched into two types, one devoted to the mental arts with a heightened civility and societal structure, the other (known derisively as the "Morlocks") are rough, crude, physically strong and aggressive. Nevlin has been convicted of a social deviation, i.e., he propositioned another man without filing the proper application to do so! His punishment is to be sent to live with the Morlocks for a time, where he is promptly captured and auctioned off as a sexual slave. But first, the Morlock buyers want to be sure that Nevlin will be able to handle his duties....


Farmwork is for Suckers
Our hero is a college boy stuck on a farm for the summer and has agreed to help out around the place, though he has publicly stated he thinks farmwork is for suckers. He's hardly the farm-boy type, but the Nordic-handsome stud of a hired hand teaches him that there are some real joys to the farming life. It turns out that farmwork really is for suckers like our hero!


Aphrodite's Reward
Pelanion has just slain a monster that had invaded the grove of the Goddess Aphrodite, and the Goddess rewards him oddly, a vial of perfume to make him desired by all, and she warns him to wear only a few drops of at a time. But when he returns to the city as a hero, he gets into a wrestling match with a prince and the vial gets broken and after that...well, the Goddess' warning was well-deserved and now he must bear the consequences.


Knots and Hitches
Sanitized version. Jeff is a Scoutmaster who's teaching a neighbor (and former Eagle Scout) how to tie hitches (not knots, hitches). His best friend, who's staying with him, comes up and scoffs at what to him is lousing knot-tying, and they end up with a bet...that the neighbor can tie his friend down so well he can't get loose. And when the friend can't, it's playtime for our hero and his neighbor on his buddy's helpless body! To read the unsanitized version, you have to ask me about the Rogue Moon. Send an e-mail to Tommyhawk1@AOL.COM.


My Mother Married Six Men
Sanitized version. Our hero and his mother have gone West to meet the man she is to marry, which she met by a matrimonial ad in the newspaper. But the man turns out to be six men, six brothers, who offer her a group marriage. As they'll pay her debts in the bargain, she agrees, but our hero is left with five of his new stepfathers upstairs in their communal bedroom, while Mom has a weeklong honeymoon with the eldest brother downstairs. But these men are in for a honeymoon of their own, as our young hero takes them all on when the lights go down. Note: While I use words like "stepfather" and "Daddy" and "Son" in this story, the "marriage" involved was not a legal one. To read the unsanitized version, you have to ask me about the Rogue Moon. Send an e-mail to Tommyhawk1@AOL.COM.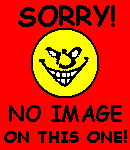 When the Gremlins Came
Our hero thinks he's crazy when the gremlins came, little green men running around all over the place, because he's the only one who can see or hear them. Odder still, they all know who he is! But when they start having sex with every man in sight (and nobody seems to notice they're having sex!), our hero has to decide whether he's going to try to fight these gremlins...or join in on the fun!


Lazy Leyton Langtry
A sanitized story. Our hero's family has taken in a neighbor's son, a large, handsome hulk named Leyton Langtry as a favor, but the guy lays around all day and does nothing. Our hero's mother says that "Lazy Leyton" is good for nothing but our hero finds that Leyton is really good when it comes to mattress-bouncing sex. To read the unsanitized version, you have to ask me about the Rogue Moon. Send an e-mail to Tommyhawk1@AOL.COM.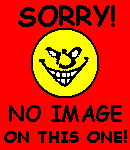 Dash Hogan and the Arena of Vesta
Episode #7 of 9 of the "homage to 1930's sci-fi" adventures of our space-going hero Dash Hogan, who explores our solar system, where life exists on every planet and every asteroid. In this episode, he travels to Vesta where he discovers it dominated by a huge arena where periodically the men of Vesta all must fight to the death, their sole living victor to mate with their world's only female/Queen. But if they don't mate (male/male sex is impossible for their species), they die anyway, and only Dash can offer them a solution to this no-win situation.



ATTENTION WEBMASTERS: I HAVE NOW SET UP
A "STORY OF THE WEEK" FEATURE YOU CAN
POST ON YOUR OWN WEBSITE. THE STORY AND
IMAGE WILL CHANGE EVERY WEEK.

Tommyhawk's

Fantasy World!
TO SELECT FROM THE AVAILABLE
BANNERS, CLICK HERE


MY LATEST KINDLE BOOKS
AT AMAZON.COM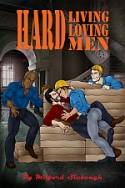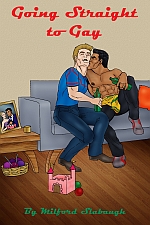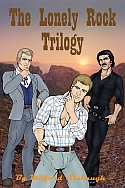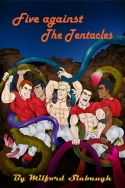 MY LATEST NOOK BOOKS
AT BARNES & NOBLE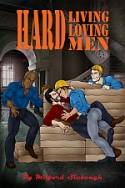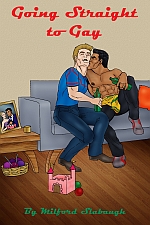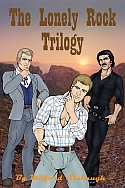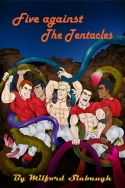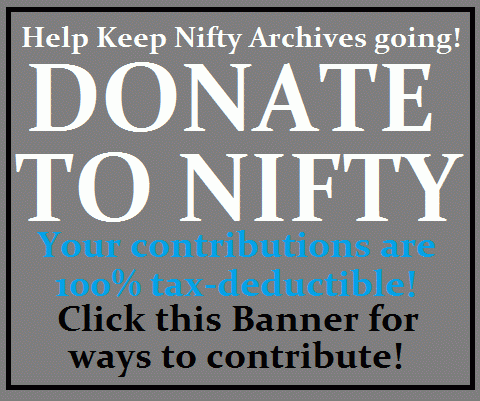 Tommyhawk's Guide
to Writing Erotica
If you want to write gay erotica,
this is your one-stop shop to the practicalities
of how to write the GOOD stuff!