SAMPLE STORIES
One New Sample Posted Every Week
Plus One Sample Re-Run From Last Year
NOW ON SALE!
USE THE "CLICK TO LOOK INSIDE"
FOR MORE FREE STUFF!



Roofie, Roofie, Who's Got the Roofie?
Our hero is a pledge at the Delta Eta Pi fraternity and is being allowed to attend his first frat party. But at 11:00pm there's a bell and suddenly he finds himself being invited to participate in a frat game of "Who's Got the Roofie?" in which everyone drinks from a collection of cups, one of which is laced with a roofie and other drugs to make the victim sexually compliant...who then gets gang-banged by the entire frat! Guess who draws the roofie tonight?


Mark's Toy
A sanitized story. Tony's housemate Mark has brought in a new addition to the house, a robot named Edex, and his attentions to this robot (that looks a lot like Tony) are bordering on obsessive. Tony sneaks into Mark's room so he can see just what this stud (that he has a crush on) is doing with the robot, and when he finds Mark addressing the robot as "Tony" and using it sexually, his outrage has him facing Mark down and insisting on his right to take that robot's place in Mark's arms! To read the unsanitized version, you have to ask me about the Rogue Moon. Send an e-mail to Tommyhawk1@AOL.COM.


The Flap of a Butterfly's Wing
Our hero is a time-traveler making only the second experimental trip into the past, so when he arrives naked and in the wrong place, he has to adapt to things as best he can. But while he's determined not to change history by his actions, who can know what anything will do to the flow of history and it turns out that his innocent love affair in the past has a significant outcome on his future!


The Last Line of Defense
Lt. Colonel Suggar Templeson is the commander of the last defensive line for the colony of Carborrah 4. The other positions, as they fell, have turned from opposing the native hordes to declaring they were joining the natives now. They brace themselves for the onslaught and, when the natives reach Templeson's line and the attack begins, he finds out why the others have switched sides!


Comfort Detachment
A double-length sanitized story. Our hero in the future is one of the young men of his community who have been selected by the Earthfleet Admiral to form a comfort detachment, and is shipped out to provide sexual comfort for the men in space as they rest between battles. Our hero learns his duties very well on his first day of full duty, and on the second day, finds he has been selected by the Admiral himself, who has decided to be the one who takes our hero's virgin ass for himself! To read the unsanitized version, you have to ask me about the Rogue Moon. Send an e-mail to Tommyhawk1@AOL.COM.


Jim Moves In
Our hero's sister-in-law (his wife's twin sister) and her husband Jim have moved in with them because Jim is out of work. He finds the arguments Jim and Lacey have sound a lot like the arguments our hero has with his wife Stacey, and when their twin wives take off the next day to do their "Black Friday" shopping, our hero and Jim stay at home, and get to know each other very well indeed!


The Sound of the Rain
A lonely mountain cabin in mid-November, a cold night, a heavy rainstorm pounding on the roof, a lone man in bed regretting his vacation plans. He hears a knocking sound and thinks it's a dead branch hitting his window and gets up to deal with the problem. Instead, it's a stranded motorist on this lonely mountain road, who has walked through the rain to his cabin, and our hero finds his vacation getting a whole lot warmer.


Sharing the Load
This WWII Army squad of six men had been through so much together that they functioned as a team in everything, if one of them needed anything, the others would give it to him. And when one of them receives a "Dear John" letter from his fiance, its up to his buddies to help him out by giving him the closest thing to a substitute they got, and it ends up a free-for-all in which they all get just what they wanted.



ATTENTION WEBMASTERS: I HAVE NOW SET UP
A "STORY OF THE WEEK" FEATURE YOU CAN
POST ON YOUR OWN WEBSITE. THE STORY AND
IMAGE WILL CHANGE EVERY WEEK.

Tommyhawk's

Fantasy World!
TO SELECT FROM THE AVAILABLE
BANNERS, CLICK HERE


MY LATEST KINDLE BOOKS
AT AMAZON.COM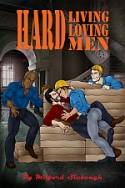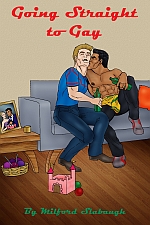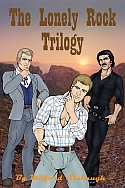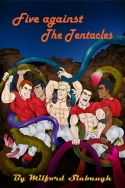 MY LATEST NOOK BOOKS
AT BARNES & NOBLE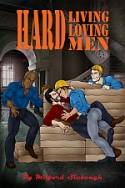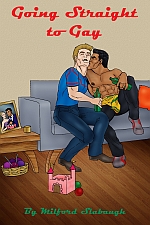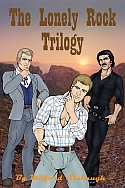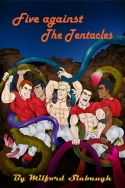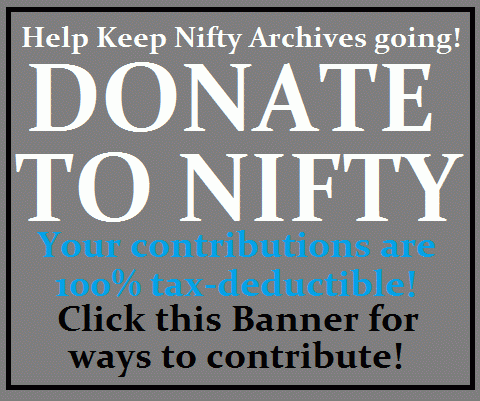 Tommyhawk's Guide
to Writing Erotica
If you want to write gay erotica,
this is your one-stop shop to the practicalities
of how to write the GOOD stuff!