DID YOU BUY ONE OF MY BOOKS AND NOT RECEIVE IT?
I always send out my books by e-mail to the address given on your Paypal account. If you don't get the book within 24 hours, you either aren't receiving my e-mails and/or can't accommodate a 9MB file. You need to change your Spam settings to not automatically delete e-mails, and check your Spam folder for my e-mails. If your e-mail account can't handle a file in the 5-10MB size range, I will need a different e-mail where I can send you the book. And by the way, once I have sold you a book, I will send it to you again as many times as you need me to, think of it as insurance against computer crashes, just write to me with the same e-mail as you have on the Paypal account, that's all the confirmation I need and I have the data on my book sales safe from any crashes on my side.



SAMPLE STORIES
One New Sample Posted Every Week
Plus One Sample Re-Run From Last Year
NOW ON SALE!
USE THE "CLICK TO LOOK INSIDE"
FOR MORE FREE STUFF!



I Love My Job!
Our hero waits in readiness for his Master to come home and when the man does, he promptly forces our hero into a rough sexual encounter. Then he orders our hero to get ready for company which leads to further degradations and sexual acts. How can he endure such a life? Well, it helps if you love your job enough to do whatever it takes.


Whatever It Takes
Sanitized version. Henry Sheppard, a big strapping young man, is coming to stay with the Harberry family up on the mountain for five days, while he looks over their three eligible girls to see if he wants to stay on and court any of them. But our hero is the one whose bed Henry ends up sharing, and it quickly turns out that our hero is the one that Henry wants to stay with! To read the unsanitized version, you have to ask me about the Rogue Moon. Send an e-mail to Tommyhawk1@AOL.COM.


Second Life
Morton Carver is a man lying on his deathbed in a hospital as cancer ravages his body but when he sleeps, he becomes Morkar, a strong man just recovered from an illness and renewing his life with his male lover. What is he to do, living two lives, when the life he has when he's awake is one of unending pain and imminent death, and his second life, that of Morkar, is the only one that gives him a reason to live?


The Tax Man
Sanitized version. Our young hero and his mother are the only ones left in the village as the tax man approaches. His mother waits because she has a relationship with the tax man, who has always forgiven her tax debt in return. But this year it is a new tax man, a young warrior who has no interest in his mother...but a keen interest in our hero and is more than ready to renew the arrangement with him in his mother's place! To read the unsanitized version, you have to ask me about the Rogue Moon. Send an e-mail to Tommyhawk1@AOL.COM.


Climbing Mount Donnie
Sanitized version. Our hero Donnie is a construction worker on Helosia III, a world of quarter-sized humans. He's tired from a long, dirty, nasty day only to find his wife has had a worse one and proceeds to takes it out on him. His friend, an undersized Helosian man, distracts him with their game of "Climbing Mount Donnie" only when the Helosian gets on top and sits down, it's not a rock pillar that ends up in his ass! To read the unsanitized version, you have to ask me about the Rogue Moon. Send an e-mail to Tommyhawk1@AOL.COM.


Spring Break
Our hero is experiencing spring break as an eighteen-year-old adult and he has made an adult decision...to work all week long at the body shop instead of going with his buddies down to Florida to party. He's wondering if he made the right decision after a while, but his boss (the father of one of our hero's buddies who's alone at home for the week himself) turns their bachelor's week into a private party of their own with lots of hot sex.


The Love Spell
Mike's roommate Leo shows him an old parchment that has been in Leo's family for over four hundred years, and it bears a working love spell. Just say it to the one you want and that person falls madly in love with you. Leo promptly proves it by snagging the girl he wants with it, and Mike "borrows" the parchment and uses it to get a handsome stud of his very own. But is he ready for everything that love spell is going to require of him?


How to Survive on Eumica-5
Our hero has crash-landed on Eumica 5, and his chance of being rescued any time soon (if ever) is slim to none. With only his meager survival equipment, he's going to need the help of the Eumican natives to survive...who have a cash-only policy. What can our hero offer them to survive? One of the natives offers him room and board...provided he becomes the native's sexual slave. And the Eumicans are definitely NOT human! Tentacle sex.



ATTENTION WEBMASTERS: I HAVE NOW SET UP
A "STORY OF THE WEEK" FEATURE YOU CAN
POST ON YOUR OWN WEBSITE. THE STORY AND
IMAGE WILL CHANGE EVERY WEEK.

Tommyhawk's

Fantasy World!
TO SELECT FROM THE AVAILABLE
BANNERS, CLICK HERE


MY LATEST KINDLE BOOKS
AT AMAZON.COM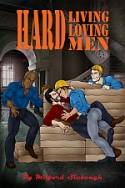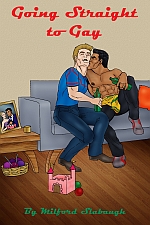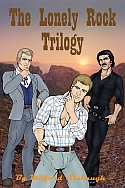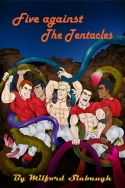 MY LATEST NOOK BOOKS
AT BARNES & NOBLE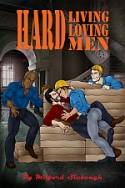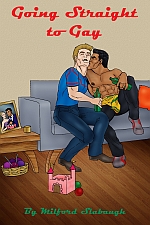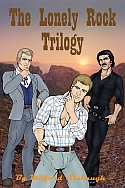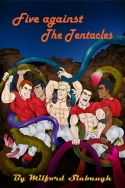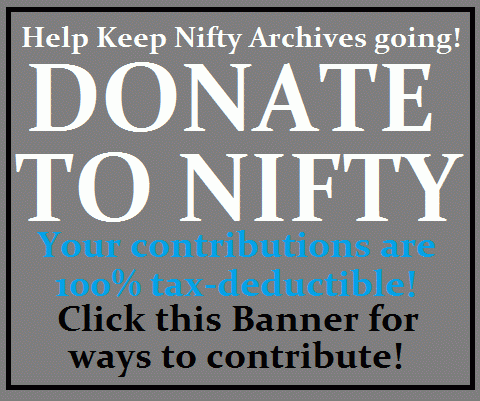 Tommyhawk's Guide
to Writing Erotica
If you want to write gay erotica,
this is your one-stop shop to the practicalities
of how to write the GOOD stuff!