Franklin's General Store
Joe couldn't wait to get out of Tompkinville; he and Ben were going to travel all summer. But when Ben takes over the family store for the summer instead, Joe has to change his plans. He goes to talk to Ben about his choice and is offered a job in the store himself and fortunately, the new situation has some undoubted advantages to a summer of travel....

MAY 26, 2018--I HAVE POSTED LAST YEAR'S STORY "ARMY BUDDIES" AT ROGUE MOON ONLY, AS IT WAS SANITIZED FOR LAST YEAR'S PUBLICATION, AND I AM NO LONGER OFFERING "SANITIZED" VERSIONS OF MY STORIES. To read the story, visit Rogue Moon. If you don't know where it is, send an e-mail to Tommyhawk1@AOL.COM.


Laying Pipe
Frank's weekend looked ruined, as he was going to have to spend the time fixing his house's broken plumbing. But his wife's friend Wade comes by to help our hero, and Wade shows Frank how much fun laying pipe can be ...you just have to lay the right kind of pipe while you wield the wrench, that's all!


The Lock and the Key
A SAMPLE FROM MY "GOING STRAIGHT TO GAY" BOOK!
Fillain is a sturdy muscled man out to burgle a wizard's treasure. He gets in with little trouble, only to find the wizard's inner sanctum's door holds a friend/fellow thief of his who has recently vanished; the man is shackled to the door, stark naked. He informs Fillain that his punishment by the wizard is to be this door's key, and if Fillain wants to get in, he has to "pick the lock" by doing sexual things with his friend! Only our friend can't tell him just what he has to do, so the only thing to do is to get starting picking this "lock" with the "key" between his legs.

MAY 19, 2018--I HAVE POSTED AN OLDER STORY AT ROGUE MOON ONLY, "SPECIAL SAUCE." I AM NO LONGER OFFERING "SANITIZED" VERSIONS OF THESE STORIES. To read the story, visit Rogue Moon. If you don't know where it is, send an e-mail to Tommyhawk1@AOL.COM.


Back of the Van
Our hero has just started a new job, which involves him staying all work-week long at an isolated location, and he has climbed into the van to take him there, to find himself with no place to sit. Just the floor to lie down on. And when another guy gets in, our hero wonders where he'll ride. Turns out, it's on top of our hero, and that's only the beginning of a ride he'll not soon forget!

MAY 12, 2018--A NEW STORY, "MORNING WOOD," IS AVAILABLE AT ROGUE MOON, A SAMPLE FROM ONE OF MY BOOKS OF ALL NEW STORIES FOR SALE THERE. To read the story, visit Rogue Moon. If you don't know where it is, send an e-mail to Tommyhawk1@AOL.COM.


The Psychic Psychiatrist
Dr. Morgen was more than a trained psychiatrist, he was also able to literally go inside his patient's minds and join them in their delusions. But when he encounters Dennis, he finds himself in the strangest adventure of his life by having psychic sex.


Social Deviation
In the far future, Mankind has branched into two types, one devoted to the mental arts with a heightened civility and societal structure, the other (known derisively as the "Morlocks") are rough, crude, physically strong and aggressive. Nevlin has been convicted of a social deviation, i.e., he propositioned another man without filing a proper application to do so! His punishment is to be sent to live with the Morlocks for a time, where he is promptly captured to be auctioned off as a sexual slave. But first, the buyers want to know that Nevlin will be able to handle it....


My Last Request
Our hero, a mercenary working as a freedom fighter in poor civil-war-torn Cunofrio, has been captured by the military and condemned to be shot in the morning. He has been offered one last request and his choice is an odd one, he wants to suck the cocks of the men who will be his firing squad in the morning, and the result is more than even he expected.


My Mother Married Six Men
Sanitized version. In the Old West, our young hero's mother, in dire financial straits, has agreed to marry any man who will settle her debts. But the one who answers her ad turns out to be a family of six hunky men who have agreed to share her as their wife on a weekly rotation, and our hero ends up in the bunkroom where the five brothers left out have their own honeymoon with our hero!To read the unsanitized version, you have to ask me about the Rogue Moon. Send an e-mail to Tommyhawk1@AOL.COM.


ATTENTION WEBMASTERS: I HAVE NOW SET UP
A "STORY OF THE WEEK" FEATURE YOU CAN
POST ON YOUR OWN WEBSITE. THE STORY AND
IMAGE WILL CHANGE EVERY WEEK.

Tommyhawk's

Fantasy World!
TO SELECT FROM THE AVAILABLE
BANNERS, CLICK HERE


MY LATEST KINDLE BOOKS
AT AMAZON.COM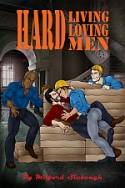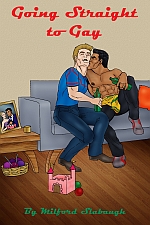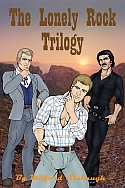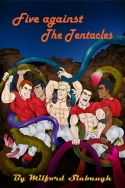 Tommyhawk's Guide
to Writing Erotica
If you want to write gay erotica, this is
your one-stop shop to the practicalities
of how to write the GOOD stuff!